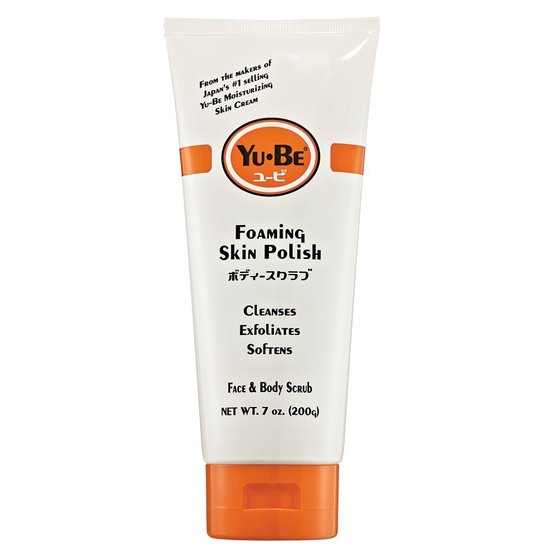 An exfoliating scrub for the face and body, Yu-Be Foaming Skin Polish is the best-selling skincare in Japan.
The Japanese bathing ritual or "ofuro" has been an important and scared custom for many centuries. Baths provide both relaxation for the mind and improved health for the body by stimulating blood circulation. Scrub away stress and layers of rough, dry skin cells by adding this Polish to your "ofuro."
Fine grains of rice bran combined with bamboo, walnut shell powder and other gentle cleansing agents create a luxuriously foamy scrub that washes away dirt. Extract of ginger root and ginseng tone and balance skin, while green team, geranium oil, camphor provide a soothing and refreshing sensation. With high levels of glycerin, the Foaming Skin Polish is also super moisturizing.
Key Ingredient are:
Glycerin – Natural humectant – attracts and retains moisture in the skin, making it softer.
Camphor – Soothes irritation and stimulates blood circulation, improving overall skin health.
Walnut Shell Powder – Sloughs away dead skin cells.
Bamboo Stem Extract – Improves skin elasticity and plays key role in moisture retention.
Green Tea Leaf Extract – Rich in antioxidants, protects skin from free radicals and improves overall skin health.
Ginger Root Extract – Inhibits collagen degradation and aids in redness reduction.
Rice Bran – Sloughs away dead skin cells.
Geranium Flower Oil – Regulates sebum secretion.
Price: $18 / 7 oz