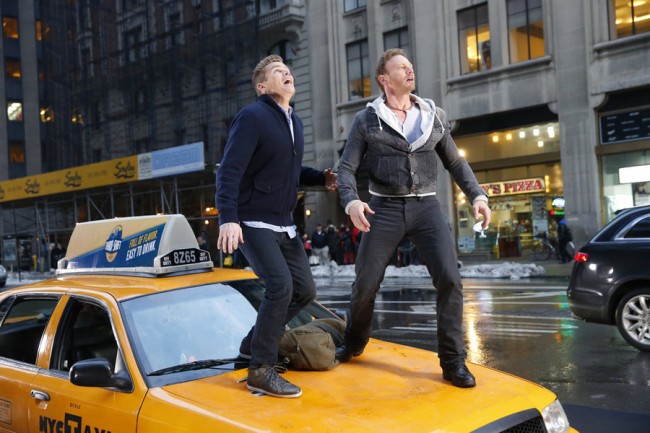 Photo: Syfy
Last year social media was taken by a shark storm with Syfy's TV movie, "Sharknado." It was campy, it was absurd and it was a good time had by all. This shark series never pretends to be anything that it's not. Yes, it's a ridiculous premise: a world where sharks spin through a storm in the sky. But you know what you're getting when you tune in. After all of the craze, the sequel, "Sharknado 2: The Second One" premieres Wednesday July 30th at 9PM. The second time around, it's a shark blizzard filled with celebrity cameos and more campy fun.
A freak weather system turns its deadly fury on New York City, unleashing a Sharknado on the population and its most cherished iconic sites – and only Fin and April can save the Big Apple. Ian Ziering and Tara Reid reprise their roles as Fin and April. What's great about the performances, is that each actor and cameo give it their all.
Get excited for a whirlwind of celebrity faces: Vivica A. Fox and Mark McGrath. Among the guest stars are Kelly Osbourne, Judd Hirsch, Judah Friedlander, Andy Dick and Perez Hilton.
Anthony Ferrante directed a screenplay by Thunder Levin, who also wrote Sharknado.