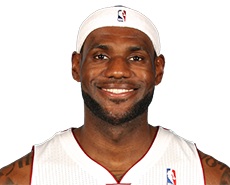 The King is going back home.
In a statement released by Sports Illustrated, LeBron James announced his plans to leave the Miami Heat and rejoin the Cleveland Cavaliers. James, a native of Akron, was drafted by the Cavaliers in 2003.
"My relationship with Northeast Ohio is bigger than basketball," said James in the SI release. "I didn't realize that four years ago. I do now."
The free agency re-migration comes with some tension. James announced his plans to leave Cleveland for Miami in a 2010 television special called "The Decision." He hadn't notified the Cavalier's management and they were as startled as the rest of America. Jerseys were burned and the drama played out before a national audience.
"Everybody makes mistakes," James said in regards to the bad blood. "I've made mistakes as well. Who am I to hold a grudge?"
After "The Decision" aired, James made another foolish decision. Along with Dwyane Wade and Chris Bosh, the new all-star lineup was introduced to a parade. This included a James guarantee of not one, but eight championships to come. It became more than a free-agency move, it was arrogant and distasteful. He was instantly vilified by the media.
Now, four years later, he eliminated the theatrics.
The SI statement is genuine. James elaborates how difficult this summer has been, while expressing extreme gratitude towards his Heat teammates and the organization. Four years more mature, he has acted with true class.
"It's time to get to work," James said.
The four-time league MVP will join all-star point guard, Kyrie Irving and the 2014 number one pick, Andrew Wiggins in Cleveland.