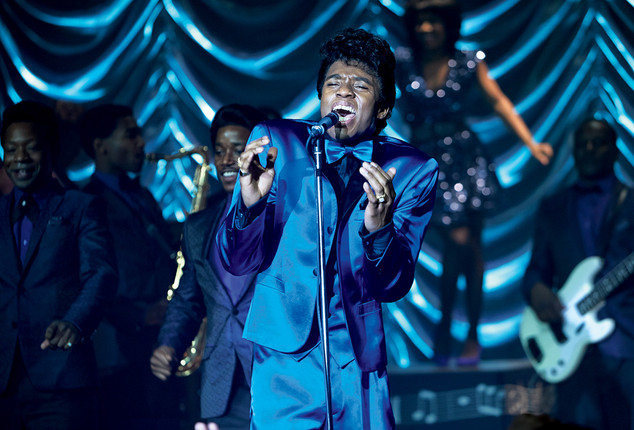 The key to a successful biopic film; especially that of a legendary musician, is the lead actor or actress. They must convincingly bring these icons back to life on the silver screen. Jamie Foxx as Ray Charles, Angela Bassett as Tina Turner, Joaquin Phoenix as Johnny Cash, etc. Now, Chadwick Boseman can be added to the list of talent who has successfully embodied a legend. He stepped into the funky shoes of The Godfather of Soul, James Brown in "Get On Up." Executive produced by Mick Jagger and directed by Tate Taylor, "Get On Up" takes the viewer on a choppy, yet entertaining ride, from Brown's impoverished childhood to his rise to fame.
In his follow-up to the four-time Academy Award®-nominated blockbuster "The Help," Tate Taylor's latest venture isn't as smooth as his last. While the casting choices are top notch, the fault lies in the film's editing. The audience is thrust back and forth through different stages of Brown's life, with no organized chronological order. From 1939 to 1988, we are looped back to Brown's struggle as a child. With an estranged mother and an abusive father who abandoned him to be raised at a brothel under the care of his Aunt Honey (Octavia Spencer), Brown always stood alone.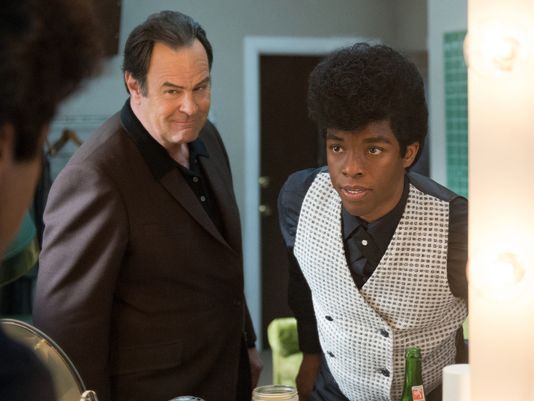 His past shaped him into the genius artist, obsessed perfectionist and quite often, abusive man that he eventually became. As most success stories go, there is a downfall. Brown built an empire for himself; taking control of his own concert promoting and producing his own music. But with all of his talent, the singer lacked loyalty and respect for the people who stood by him. After losing his longtime manager, Ben Bart (Dan Aykroyd) and his young son, drugs took over; but Brown's music somehow sustained. After the advent of music "sampling" in the late 70s, Brown became the most sampled artist of all time.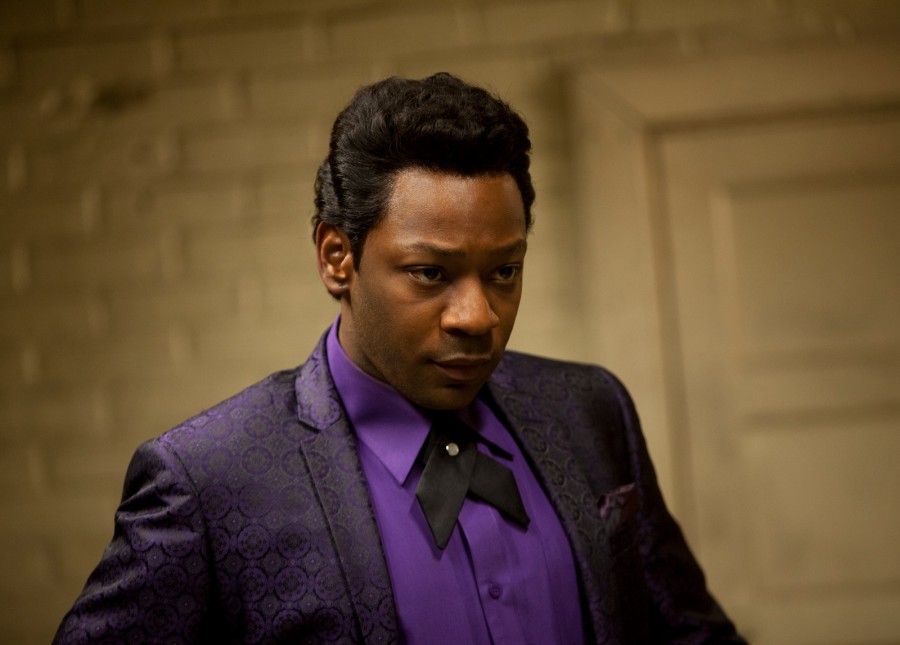 Chadwick Boseman, who is no stranger to biopics since his portrayal of Jackie Robinson in "42," is a powerhouse James Brown. While he is not the spitting image of the funk king, Boseman took on Brown's mannerisms, from his distinctive raspy down-home, almost unintelligible southern drawl, to his walk and incredible dance moves, the performance is spot-on. Nelsan Ellis breaks out of his "True Blood" role in his brilliant recreation of Bobby Byrd; Brown's right-hand man. Every cast member deserves a mention. Viola Davis as Brown's mother gives a heartbreaking and touching portrayal. Octavia Spencer is perfect as the 'words of wisdom' to Brown, and Dan Aykroyd is wonderful as the major rock in The Godfather of Soul's life and career. Singer, Aloe Blacc made his way into Brown's band and Brandon Smith has a small, yet memorable role as Little Richard. Above all, Boseman has earned his ticket for a nomination this awards season.
Although the editing and costumes (specifically Brown's signature jumpsuit) leave something to be desired, it is the music that makes you want to dance in your seat and the cast that makes "Get On Up" worth seeing.
By Pamela Price
Running Time: 138 minutes
Rated PG-13 for sexual content, drug use, some strong language, and violent situations