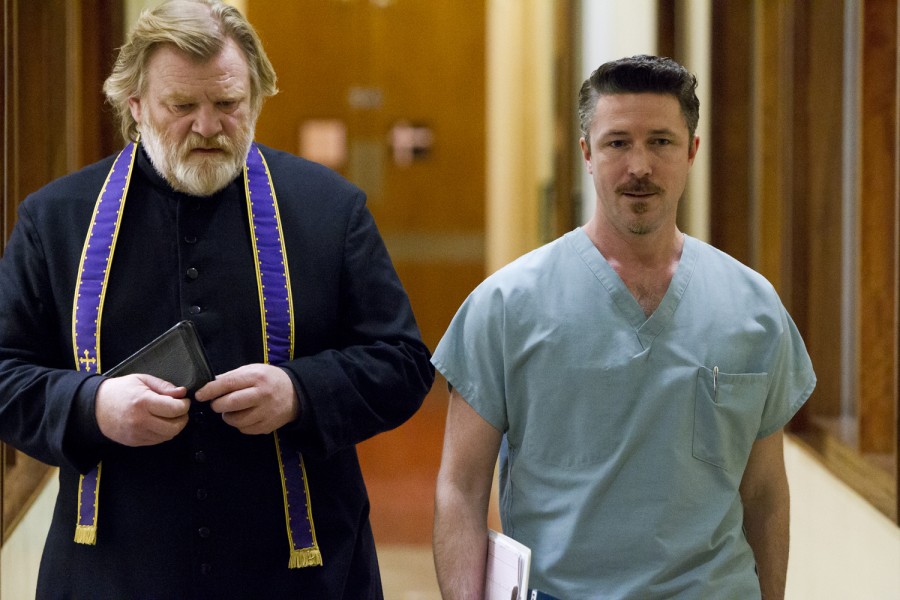 It isn't often that a dark comic drama about an Irish priest comes down the pike, but that's exactly what Fox Searchlight is releasing this week with "Calvary," starring a wealth of mostly Irish actors including Brendan Gleeson, Chris O'Dowd, Kelly Reilly, Aiden Gillen and Dylan Moran.
Written and directed by John Michael McDonagh ("The Guard"), "Calvary" is an intellectually stimulating, morally profound, and occasionally hilarious character study of a priest whose spirituality and physical safety is jeopardized when a disgruntled member of his parish threatens his life. With a rich, though occasionally sluggish screenplay, confident direction from a filmmaker whose previous work was a significantly lighter action comedy, and standout performances from its ensemble cast, including a career-defining turn from Brendan Gleeson, "Calvary" should find a small but loyal following from the art house crowd.
Set in the sleepy Irish seaside town of Easkey (also where the film was shot), "Calvary" opens with a disturbing encounter in a confession booth between Father James (Brendan Gleeson), a genuinely good priest, and an unidentified member of his parish. In graphic detail, the parishioner describes the sexual abuse he experienced as a child at the hands of a priest. Now, it's time for payback, and since the man's childhood tormenter has passed away, he's decided to exact revenge on Father James for being part of the institution that allowed this type of abuse to persist. But rather than carrying out his revenge on the spot, the parishioner gives Father James one week to get his matters in order before he returns to kill him.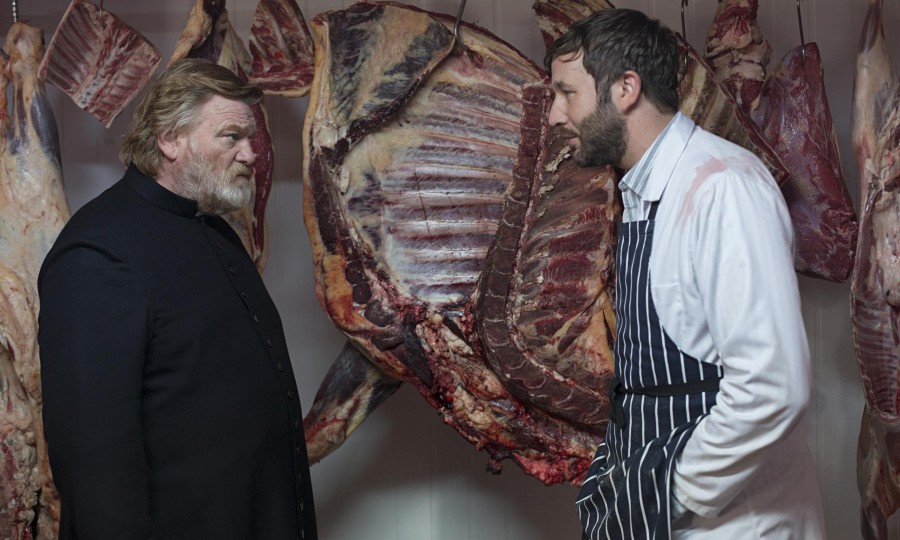 With this disturbing news weighing heavily on his mind, Father James proceeds to go about his usual business of tending to the moral quandaries of the sinful townspeople of Easkey, all the while trying to uncover which one of them has it out for him. And rest assured, there is no shortage of dubious types looming around these parts. There's Jack (Chris O'Dowd), the town butcher who is the local joke for being made a cuckold by his wife (Orla O'Rourke); Frank Harte (Aiden Gillen), a gleefully immoral doctor; Michael Fitzgerald (Dylan Moran), a nihilistic businessman with a twisted sense of humor; and an elderly American expatriate novelist (M. Emmet Walsh) with a death wish. As the clock ticks closer to the inevitable showdown, Father James is forced to confront his dwindling faith and come face to face with the sins of his past.
McDonagh's screenplay strikes a nice balance between the different genres, using the whodunit framework to add narrative drive to the more morally complex material at hand. Even though the dialogue-heavy script causes some of the scenes to lag, particularly in the story's more sobering moments, the dialogue and suspenseful setup are also responsible for some of the most entertaining moments of the film. When you hear the intoxicating mixture of profanity and wit that spouts from the mouth of these characters, it becomes evident that McDonagh is in fact the brother of Martin McDonagh, the Irish playwright turned filmmaker responsible for "In Bruges" and "Seven Psychopaths."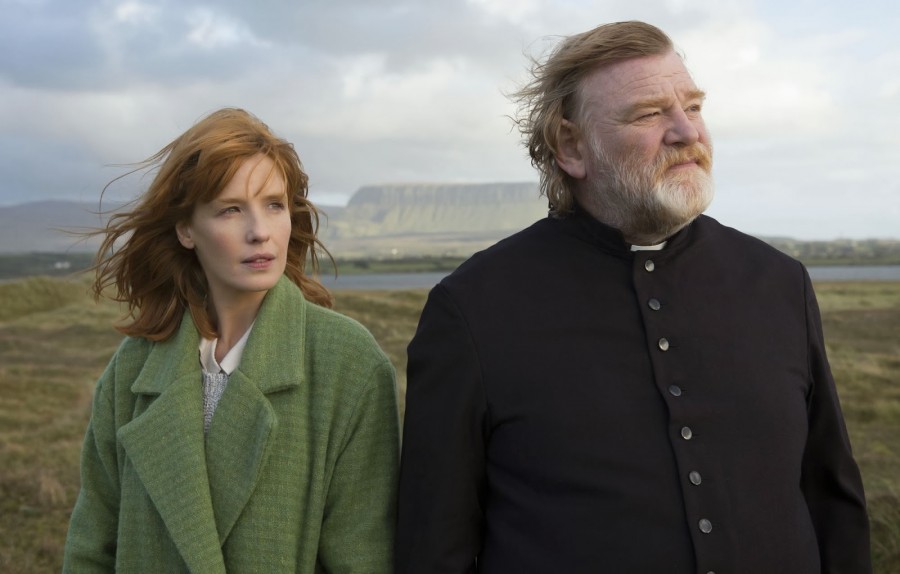 As a director, McDonagh proves to be a competent handler of his own material, although he is prone to the occasional overstatement, especially during a moment in the film's climax that could have benefited considerably from a more restrained approach. Luckily, McDonagh surrounds himself with exceptional talent, enlisting the services of cinematographer Larry Smith ("Only God Forgives"), who captures the rugged, wind-swept beauty of the rarely photographed locale, editor Chris Gill, who also worked on the director's previous film, and composer Patrick Cassidy ("Layer Cake"), whose graceful notes go a long way in helping the filmmaker achieve the tricky tone he's after. 
Leading the talented cast is Brendan Gleeson, who, despite working consistently for the past twenty-five years, hasn't been afforded many lead roles. Best known for his roles in "Braveheart," "In Bruges," and as Mad-Eye Moody in the "Harry Potter" franchise, Gleeson proves what a skilled thespian he is in a role that requires him to navigate some nuanced and emotionally draining terrain. Also putting in stellar work here is Chris O'Dowd ("Bridesmaids"), who takes a much darker turn than we're used to seeing from him; Aiden Gillen ("Game Of Thrones"), who's at his devious best as the sinister Dr. Harte; and Dylan Moran, who brings eccentric flair to the role of an oddball businessman.
Unless Brendan Gleeson is singled out for his performance, "Calvary" is unlikely to receive much love on the awards circuit, but it's a quality drama that doesn't shy away from tackling serious subject matter, and doing so with tactful irreverence.
By Lucas Mirabella
Running Time: 100 Minutes
Rated R for sexual references, language, brief strong violence and some drug use.