Marvel Comics have their sights set on cosmic domination. Already a force to be reckoned with in 2014, with three of the top five grossing films of the year under their banner, not to mention two television series on ABC in full swing ("Marvel's Agents of S.H.I.E.L.D." and the upcoming "Agent Carter"), the multimedia behemoth behind such superheroes as Spiderman, X-Men and The Avengers is back with another summer blockbuster, "Guardians Of The Galaxy," an epic space adventure starring Chris Pratt, Zoe Saldana, Dave Bautista, Lee Pace, Michael Rooker, Djimon Hounsou, Benicio Del Toro, Glenn Close, John C. Reilly, and featuring the voices of Vin Diesel and Bradley Cooper.
Far from a well-known property, "Guardians" was conceived in 1969 by Arnold Drake and Gene Colan, though the comic has since been relaunched several times, most notably by Dan Abnett and Andy Lanning in 2008. Similar in tone to the universally acclaimed "Iron Man" franchise, "Guardians" sets itself apart from the onslaught of superhero films with the unique vision of its daring writer-director, James Gunn ("Slither," "Super"), who jumped at the opportunity to tap into his inner child and essentially create an entire world from the ground up. As Gunn explained, "When I was a kid, I was obsessed with different planets and solar systems, and I used to create a different alien race for every single planet. To me, this is like going back to that childhood box and creating this fun universe."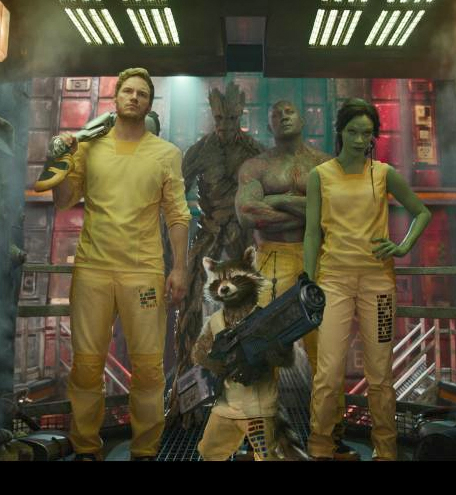 So who are The Guardians Of The Galaxy? As the name would suggest, the Guardians are a group of "cosmic misfits" who band together to save the universe from the seemingly unconquerable villain, Ronan (Lee Pace), and his galactic goon squad. Leading the Guardians is Peter Quill, a bold space adventurer played with go-for-broke gusto by Chris Pratt ("Parks and Recreation," "Moneyball"). When Quill comes into possession of a powerful orb that could destroy the entire cosmos, Ronan puts a bounty on his head that forces Quill to partner with an unlikely group of space outcasts, all of whom have a bone to pick with the villain.
Rounding out this group of superheroes are Rocket (Bradley Cooper), a gun-toting mercenary who just so happens to be a talking raccoon; Groot (Vin Diesel), a walking tree who is surprisingly resourceful despite his limited grasp on the English language; Drax (Dave Bautista), a muscle-bound barbarian seeking revenge for the death of his family; and Gamora (Zoe Saldana), a green-skinned assassin from an alien planet looking to redeem herself for past indiscretions.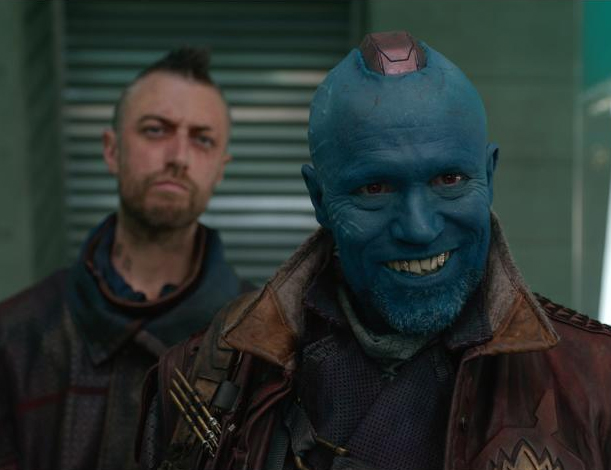 Given the unconventional characters at the story's center, Gunn wanted to approach the casting process with a similar outside-the-box mentality, seeking out a lead actor that didn't necessarily fit the superhero archetype.  And despite the fact that Chris Pratt – or, as Gunn referred to him, "the chubby guy from 'Parks and Rec'" – is mostly known for comedic sidekick roles, when he walked into the audition, the director knew he'd found his hero. "I really wanted someone who could embody this character and take it beyond the page, in the way that Robert Downey, Jr. did for Iron Man," said Gunn. "And then Chris came in and started to read, and within twenty seconds I was like, 'That's the guy we're looking for.' Sometimes a role and a person are meant for each other, and that's what I felt this was. If he's chubby, people are gonna have to get used to a chubby superhero."
Pratt himself is the first to admit that he wasn't the most obvious choice for a superhero role, but the opportunity came about at a perfect time in his career. "At the time, I was having a kind of identity crisis as an actor," Pratt explained. "I didn't know if I was an action guy or a comedy guy. And I thought maybe I could do a combination of both, but there was nothing really out there. And my managers kept saying, "Guardians Of The Galaxy," and I said, 'Alright, let's meet on it.' And then James said, 'I just want someone to do their thing,' and that gave me the confidence to just do it." Audiences may have initial skepticism over Pratt playing a superhero, but once they see the actor in full Peter Quill mode, with his newly chiseled physique and hilariously outsized personality, there is little doubt that he'll be embraced with open arms.
For audiences concerned that "Guardians Of The Galaxy" might be too unearthly for their tastes, director James Gunn is here to reassure us that his film is grounded in universally relatable themes. "The movie is about a couple things," Gunn stated. "First: Peter Quill's relationship to his mother and how it manifests itself throughout the rest of his life. Second: we live in a world where everyone is supposed to be cool and act tough, and this movie is about allowing yourself to actually care. And third: I fell in love with these characters and actors as I was making it. And my natural sensitivity to characters, people and emotions is something that was automatically expressed in the film. It's a film about family."
Another aspect of this extraterrestrial escapade that audiences will have no problem latching onto is the infectious soundtrack, consisting of such 1970's classics as "Hooked On A Feeling," and "Cherry Bomb," which Quill plays on his vintage Sony Walkman – a relic of his 1980's childhood on earth, before he was abducted into space. And unlike most films, which merely tack on songs once filming is complete, for Gunn, the music was essential to the storyline. "The Walkman and the cassette tape are really this character's connection to his home planet of earth. That's the emotional center. The MacGuffin is the orb that everyone's chasing after, but the emotional center is the Walkman. All the songs were written into the screenplay, so they were in there from the ground floor up."
Between the out-of-this-world action sequences (all shot in eye-popping 3D), the A-list ensemble cast, the superb storyline that adeptly juggles humor, action and drama, and the nostalgic soundtrack, "Guardians Of The Galaxy" is a summer spectacle to look out for when it comes flying into your orbit on August 1st.
By Lucas Mirabella
Rated PG-13 for intense sequences of sci-fi violence and action, and for some language.
Running Time: 121 Minutes