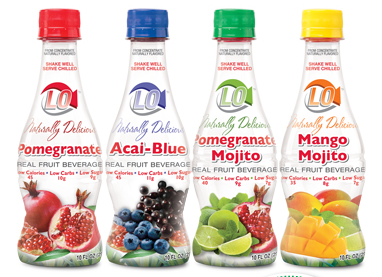 There are plenty of sugary juices out there; the ones that claim to be 'all-natural,' but are actually heavy in sugars and alternative flavoring. LATF found a healthy juice line, perfect for summertime: LO Real Fruit Juice Blend Beverage. This is a great drink for those on a diet plan because it is a low glycemic juice alternative made with premium Organic ingedients sweetened with Organic Blue Agave and Stevia extract. You don't have to worry about processed sweeteners.
There are no preservatives or artificial ingredients. Juices such as Gatorade and Cranberry Cocktails are at the top of the glycemic index; meaning they are high in carbohydrate intake.
LO juices have been clinically tested at the Glycemic Index Laboratories. What exactly is GI? It's a numerical system which is determined by measuring how quickly blood glucose levels increase based on carbohydrate consumption.
We recommend trying all of the LO flavors cold on ice. Flavors include: Pomegranate, Acai-Blue, Pomegranate Mojito and Mango Mojito. You could even try mixing the flavors up over crushed ice in a cup, to make the perfect summer snow cone! Bottles are 10 fl oz.
LO is available at natural foods and specialty grocers across the U.S. such as Whole Foods, select Walgreen's and Rite Aid stores, and online at www.LOFruitBeverage.com.