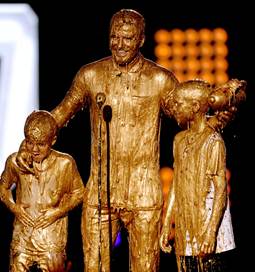 A lineup of sports superstars including Dwyane Wade, Tim Howard, Serena Williams, Kevin Durant, Gabby Douglas, Victor Cruz, Carmelo Anthony and more were winners, taking home orange mohawked blimps at Nickelodeon's inaugural Kids' Choice Sports 2014, Thursday, July 17. Hosted by Michael Strahan ("LIVE with Kelly and Michael," "Fox NFL Sunday"), the awards were broadcast live from UCLA's Pauley Pavilion in Los Angeles where kids honored their favorite athletes, teams and sports moments from the year in one big, slimy sports celebration.
World-renowned athlete David Beckham was presented with Kids' Choice Sports' first Legend Award, a gold mohawked blimp, for his incredible talent and outstanding sportsmanship on the field.  Adding to his list of accomplishments, Beckham also received the first-ever gold sliming in Kids' Choice history with his sons Romeo and Cruz.
In a thrilling half-time show filled with music, athleticism and slime, award-winning country stars Florida Georgia Line rewarded fans with a performance medley of their smash hits "Cruise" and "This is How We Roll," followed by a thorough drenching of the mosh pit. In a live vote during the show, kids decided on the contents–maple syrup, whipped cream or slime–of the giant dunk tanks in the "Verizon Power Dunk" competition. Arizona Cardinals wide receiver Larry Fitzgerald prevailed, dunking Seattle Seahawks defensive back Earl Thomas III in a giant tank of green goo, only to be dunked himself by Strahan. Dallas Mavericks center Tyson Chandler, basketball forward Metta World Peace, and "The Haunted Hathaways" star Benjamin "Lil' P-Nut'' Flores Jr. cheered on 15-year-old Ricardo Jacobo Jr. in the "Kids' Choice Sports  Half-Court Shot Contest" who landed the $50,000 grand prize.
The following are Nickelodeon's Kids' Choice Sports 2014 winners:
 
BEST MALE ATHLETE
Kevin Durant (NBA, Oklahoma City Thunder)
 
BEST FEMALE ATHLETE
Gabby Douglas (USA Gymnastics)
 
FAVORITE NEWCOMER
Russell Wilson (NFL, Seattle Seahawks)
 
FAVORITE CATCH
Dez Bryant (NFL, Dallas Cowboys)
 
BEST SAVE
Tim Howard (English club Everton and the United States Men's National Team)
 
CLUTCH PLAYER OF THE YEAR
Carmelo Anthony (NBA, New York Knicks)
 
SICKEST MOVES
Alex Morgan (NWSL, Portland Thorns)
 
DON'T TRY THIS AT HOME AWARD
Shaun White (American professional snowboarder and skateboarder)
 
SMELLS LIKE TEAM SPIRIT
Seattle Seahawks Fans
 
PARTY LIKE A SPORTS STAR (Best Victory Celebration)
Victor Cruz (NFL, New York Giants)
 
KING OF SWAG
Dwyane Wade (NBA, Miami Heat)
 
QUEEN OF SWAG
Gabby Douglas (USA Gymnast)
 
BIGGEST CANNON
Serena Williams (WTA)
 
FAVORITE COMEBACK ATHLETE
Bethany Hamilton (Surfer)
Fans can relive their favorite show moments by watching Kids' Choice Sports video highlights, and flipping through orange carpet, live event and performance photos at http://www.nick.com/kids-choice-sports/pictures/