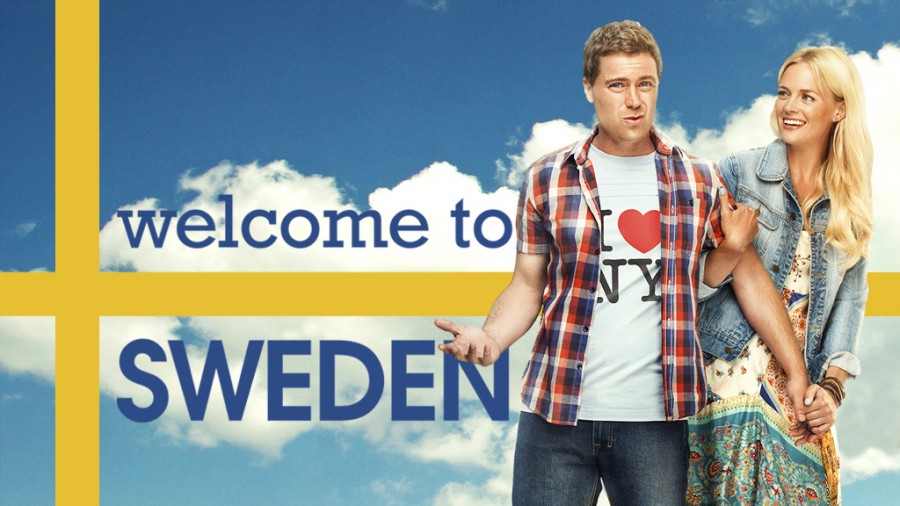 "Welcome To Sweden" is a new sitcom for NBC. Executive produced by Amy Poehler, WTS is based off of the life experiences of her comedian brother (and Greg Kinnear look-alike), Greg Poehler, who moved to Sweden in 2006 with his Swedish girlfriend after leaving his lawyer life behind. And voila, a concept for a comedy series.
The single-camera sitcom takes some getting used to as it starts of slow and there is quite a bit of Swedish with subtitles. Note: the series was not made for US televison; It first aired in Sweden back in March. Poehler plays, the average Joe, Bruce Evans, who leaves his accounting job behind to move to Stockholm with his girlfriend Emma Wiik (Josephine Bornebusch, Swedish hit drama "Solsidan") and her entire family. Most of the laughs surface from the culture clashes between Bruce's 'American' ways and Emma's dufus brother, Gustav (Christopher Wagelin). The show is a series of awkward moments between Bruce and his new Swedish family, which includes her parents, Viveka (Lena Olin, "Chocolat") and Birger (Claes Månsson).
As for Bruce's family (who show up later in the picture), his dad, Wayne (Patrick Duffy, "Dallas"), is conservative by nature and resides in a small Midwestern town. Along with Wayne, Bruce's adoring mother, Nancy (Illeana Douglas, "Grace of My Heart"), wants nothing but the best for her son, but has no understanding whatsoever of his decision to leave his happy life in New York.
It's well worth it to follow the show for the prime guest appearances from Amy Poehler, Aubrey Plaza, Gene Simmons and especially, Will Ferrell who tries his hand at speaking a little Swedish.
"Welcome To Sweden" premieres July 10th on NBC (9-9:30 p.m. ET).