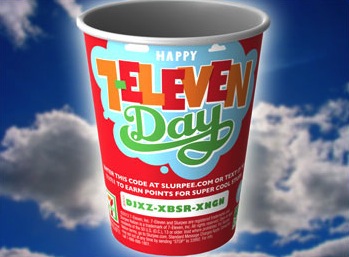 On July 11th, the world's largest convenience store retailer is celebrating its 87th birthday by inviting guests across the U.S. to enjoy a Free Small Slurpee drink. 7-Eleven guests can pick up their celebratory Slurpee drink at participating 7-Eleven stores nationwide from 11 a.m. to 7 p.m. local time, while supplies last. Guests can also enjoy 1/4 lb Big Bites for just $1 ALL day with their free birthday Slurpee.
This year's birthday bash couldn't be contained into a single day so 7-Eleven is introducing 7-Eleven Week, where guests will be able to redeem a free treat each day from July 12-19 through the 7-Eleven App, while supplies last. The 7-Eleven Week offers change daily and include:
Saturday, July 12th – Big Gulp®
Sunday, July 13th – M&M's® Brand Birthday Cake Chocolate Candies
Monday, July 14th – Grandma's® Cookies
Tuesday, July 15th – Hostess® Twinkies®
Wednesday, July 16th – TWIX® or Snickers® Brand Ice Cream Bar
Thursday, July 17th – Quaker® Chewy® Yogurt Snack Bar
Friday, July 18th – Pillsbury® Cookie
Saturday, July 19th – Small Slurpee drink
To receive each day's free offer, guests must first download and register on the 7-Eleven app. Guests can join in the 'APP'-y birthday celebration by texting BDAY to 711711 to automatically download the 7-Eleven app, also available on Google Play and the App Store. Guests will then open the 7-Eleven app at the store and show the member barcode to the sales associate at checkout.  The bar code appears below the coupons. Once the associate scans the barcode at the register, guests will receive the item as they check out. The 7-Eleven app is not required to receive a free Slurpee drink on 7-Eleven Day (Friday, July 11).
To find a participating store near you, please visit www.7-eleven.com/locator