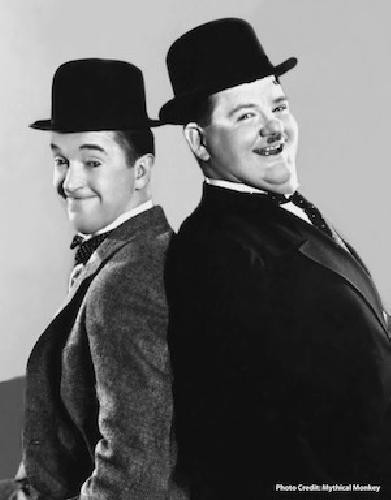 The Hollywood Museum unveils its new exhibit, "100 Years of Hal Roach Studios: Laurel & Hardy, 'Our Gang' and Harold Lloyd" in honor of the Hollywood icon's centennial, opening to the public July 5 to August 31. The exhibit contains authentic photos, costumes and props from the rich history of Hal Roach Studios and the legendary talents that emanated from there in the early 1900s. Sons of the Desert, the International Laurel & Hardy Society, is co-sponsoring the exhibition in conjunction with their national convention, held July 2-6 in the heart of Hollywood. The Hollywood Museum in the Historic Max Factor Building is located at 1660 N. Highland Ave. at Hollywood and Highland.
"We are so pleased to honor the 100th anniversary of the Hal Roach Studios with this special exhibit," states Donelle Dadigan, Founder and President of the Museum. "Everyone remembers the celebrated comedy team Laurel & Hardy who made famous the phrase 'Well, here's another nice mess you've gotten me into,' the legendary appeal of  'Our Gang' and their famous dog Petey, and actor Harold Lloyd, one of the most famous and influential comedians of the great silent film era."
Highlighting the exhibit are Laurel and Hardy costumes including suits worn in the 1945 film The Bull Fighters, coats worn in Jitterbugs (1943), the iconic Fez's worn in Sons of the Desert (1933), Stan Laurel's personal favorite Fedora, as well as props from Sons of the Desert and a flask from The Fighting Kentuckian (1949). There's a plaque from Lake Laurel and Hardy (in Marietta, S.C.), including its mysterious history offered by the City of Los Angeles archives. Additional Laurel & Hardy ephemeras consist of film posters, rare photographs, scripts, sheet music, scrapbooks, personal photos and letters and Al Hirschfeld-designed window cards.
For more information go to www.TheHollywoodMuseum.com