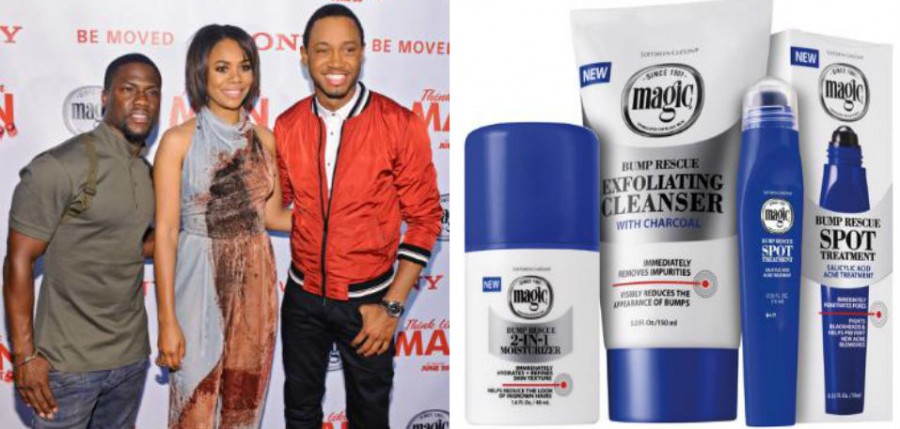 SoftSheen-Carson Laboratories® Magic® Shave celebrated their NEW Bump Rescue Skincare Line through its Magic Shave Approved campaign and partnership with Sony Pictures' Think Like a Man Too, in theaters now.
As part of the campaign, an advanced pre-screening of Think Like a Man Too was sponsored by Magic Shave, the movie's official U.S. men's grooming promotional partner, at Show Place Icon 15 in Chicago with cast appearances by Kevin Hart, Regina Hall and Terrence J. At the event, Magic Shave offered product sampling to eager moviegoers and invited them to enter their Think Like A Man Too sweepstakes for the chance to win a trip for two to Las Vegas.
Through the dynamic campaign, the brand also hit Chicago's hottest neighborhood barbershops where they picked up the tab for customer appointments, sampled Magic Shave products and provided movie ticket giveaways. Consumers were also encouraged to share their smooth look using hashtag #MagicShaveApproved.
Designed to address the specific needs of African American men's skin, the NEW Magic Shave Bump Rescue Skincare Line visibly reduces the appearance of bumps, fights blackheads, helps prevent new acne blemishes and diminishes the look of ingrown hairs. This comprehensive system is built around cutting-edge technologies and contains key ingredients such as salicylic acid, charcoal, zinc and allantoin, to deliver smoother skin.
"Magic Shave has been the pioneer in men's depilatories for over 100 years," says Mezei Jefferson, Senior Manager of Education, SoftSheen-Carson.
Magic Shave Bump Rescue Skincare Line consists of three innovative products that work synergistically to help men achieve their best self. Each product is a powerhouse that provides specific benefits, and collectively, the regimen unlocks the full power and potency of the line:
Bump Rescue Spot Treatment – Convenient, easy-to-use roller ball spot treatment, created with 2% salicylic acid, the highest amount one can purchase over the counter. With a menthol cooling sensation, it treats and prevents breakouts, penetrates pores to fight blackheads and helps to clear up blemishes, allowing skin to heal. (SRP

$8.99

)
Bump Rescue Exfoliating Cleanser – Formulated with charcoal particles and salicylic acid, this exfoliating cleanser washes away oil and dirt residue, helps unclog pores, removes impurities and dead cells, while reducing the appearance of bumps. (SRP

$5.99

)
Bump Rescue 2-in-1 Moisturizer – Featuring a combination of zinc and allantoin, this instantly hydrating moisturizer helps to reduce the look of ingrown hairs and refine skin texture while keeping skin hydrated and soothed. This unique moisturizer minimizes the appearance of bumps in just 4 weeks. (SRP

$5.99

)
Magic Shave Bump Rescue Skincare is now available in mass, drug and barber/beauty supply stores nationwide.