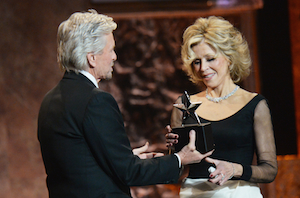 Actor, producer, activist and author Jane Fonda was honored with the 42nd annual AFI Life Achievement Award – the highest honor for a career in film – in an evening filled with surprise and sentiment. Many of Hollywood's most revered artists, executives and philanthropists turned out to pay tribute to one of America's most cherished artists. The black-tie gala will air on Saturday, June 14th, at 9 p.m. and 10:30 p.m. (ET/PT) on TNT and encore Friday, Aug. 1, at 8 p.m. (ET) on Turner Classic Movies (TCM) as part of an all-night tribute to Fonda.
Among the more than 1,000 guests gathered for Fonda were Rosanna Arquette, Diego Boneta, Luke Bracey, Mel Brooks, Sandra Bullock, Clive Davis, Rosario Dawson, Cameron Diaz, Eve Ensler, Sally Field, Morgan Freeman, Troy Garity, Melanie Griffith, Kathryn Hahn, Chelsea Handler, Marcia Gay Harden, Felicity Huffman, Kevin Huvane, Catherine Keener, Ron Kovic, Diane Lane, Eva Longoria, William H. Macy, Samantha Mathis, Mary McCormack, Dylan McDermott, Chris Messina, Emily Mortimer, Alison Pill, Cleo Pires, David O. Russell, Carol Bayer Sager, Corey Stoll, Meryl Streep, Wanda Sykes, Linda Bloodworth Thomason, Lily Tomlin, Michael Vartan, Sam Waterston, Catherine Zeta Jones and more.
 
The tribute was built upon the depth of Fonda's career as an actor, producer, feminist, activist and author. In the tradition of past AFI tributes, the details of the program were held as a surprise to the honoree, making this event one of the most beloved experiences in the film community. The night reflected Fonda's roots in a Hollywood dynasty, bringing her full circle from her attendance at her father's celebration at the 6th AFI Lifetime Achievement Award in 1978.