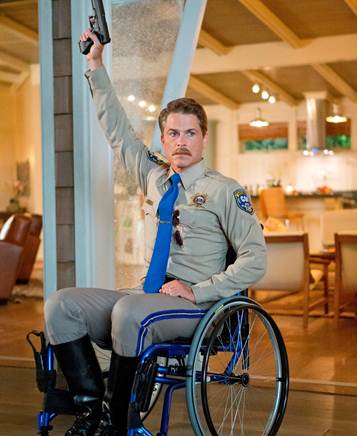 The final run of the hit Showtime comedy series "Californication" wouldn't be complete without a jaw-dropping appearance from the combustible Eddie Nero.
This Sunday, guest star Rob Lowe returns for his final appearance as the mentally unstable movie star, in full method-actor mode for his starring role in the new television series, "Santa Monica Cop." Hank's (David Duchovny) romantic evening with Karen (Natascha McElhone) is ruined by the badly timed arrival of Charlie (Evan Handler), Marcy (Pamela Adlon), Julia (guest star Heather Graham), son Levon (guest star Oliver Cooper) – with escort in tow – and rock-and-roll butler Krull (guest star Steve Jones). But the night goes up in flames when Nero rolls through the door, literally, in a wheelchair.
For the final season of the series, Hank joined the writer's room of his scrapped film-turned-TV-series "Santa Monica Cop." He's riled frequently by his boss, the show's grizzled, old-school executive producer Rick Rath (guest star Michael Imperioli) and his writing peers, including Goldie (guest star Mary Lynn Rajskub) and Alonzo (guest star Alonzo Bodden), and the show's two leads, Hashtag Black (guest star Brandon T. Jackson) and Amy Taylor Walsh (guest star Mercedes Masohn). But he's totally thrown by the arrival of his long-lost son Levon and Levon's mother, Julia, whose reemergence turns his already spotty relationship with Karen upside down. Meanwhile, a newly reconciled but financially devastated Charlie and Marcy are forced to consider an unbelievable offer from her ex-husband Stu Beggs (guest star Stephen Tobolowsky). The series, which is created/executive produced by Tom Kapinos and stars Duchovny (who also executive produces) in his Golden Globe®-winning performance, will air its final episode on Sunday, June 29th at 9:30 pm ET/PT.