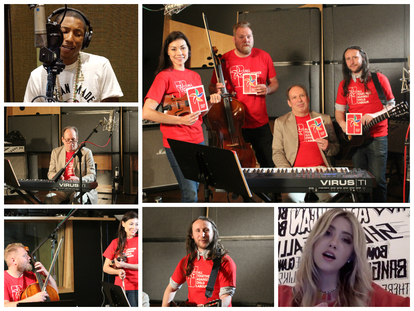 Producer/composer/guitarist Mike Einziger, Pharrell Williams, composer Hans Zimmer and Blink-182's Travis Barker are among the Academy Award, Golden Globe and Grammy award winners who have come together to record a song in support of the International Labour Organization's "Red Card to Child Labour" campaign. Also performing on the song is Minh Dang, a survivor of child trafficking, and newcomer Liz.
 
The song, "Til Everyone Can See," and the music video will launch on June 12th, World Day Against Child Labour. It was written by Einziger (founder/guitarist/songwriter for Incubus) and internationally acclaimed violinist, Ann Marie Simpson. The idea for a song came to both musicians after they met with the ILO and learned about the millions of children in child labour. When Hans Zimmer heard the demo of the song, he decided to support their efforts and also enlist Pharrell and other musicians.
"There are 168 million children between the ages of five and 18 years in child labour around the world, doing work they are too young to perform," said Einziger. "Many are denied the opportunity to go to school. 85 million of them are doing work that puts their health or safety, sometimes even their lives, in danger. They're victims of exploitation in the drugs or sex trade, are recruited as soldiers or made to beg, to work in mines and sweatshops or as domestic workers. This is unacceptable," he said.                                                                                                 
Founded in 1919, The International Labour Organization (ILO), is the oldest specialized agency of the United Nations. The ILO has the world's biggest programme to combat child labour – the International Programme on the Elimination of Child Labour (IPEC).
 
"This is an opportunity for artists and the global community to join the efforts of the ILO's constituents – governments, businesses and workers' organizations to raise awareness about child labour, and to make a difference in the lives of millions of children," said Marcia Poole, Communications Director for the ILO.
 
 
Other musicians and music organizations around the world are also helping raise awareness of the plight of child workers through the Global Music against Child Labour Initiative with orchestras and other musicians dedicating concerts to the fight against child labour.
 
For more information on the campaign: http://www.ilo.org/redcard