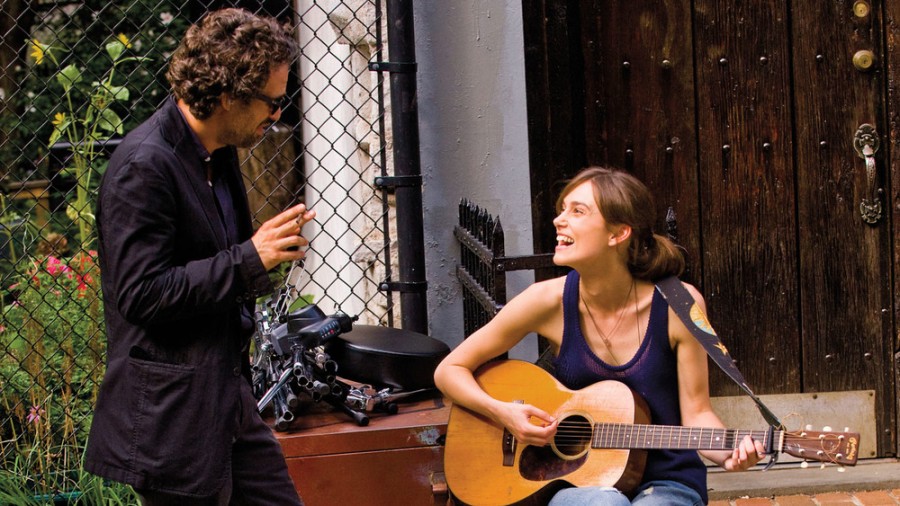 'Can a song save your life?' That is the pivotal question — and former title of the film — that swirls around writer/director John Carney's (Once) "Begin Again." Premiering at Sundance earlier this year, it doesn't take long to see why this Mark Ruffalo and Keira Knightley headlined romantic-dramedy was gobbled up by the Weinstein Company in a record-breaking distribution deal. This music-centric motion picture is more than just a one-hit wonder. It's a straight up Billboard chart topper in cinema form. 
Even though "Begin Again" blossoms into something all together heart-warming, the film's opening is decidedly bleak. That's probably because its two protagonists are simultaneously experiencing something along the lines of an existential crisis. Dan (Ruffalo), the former hot-shot music producer that once graced the cover of Rolling Stone, has all but become an industry has-been. Perpetually reeking of booze and sporting unkempt facial hair, Dan hasn't signed anyone to his record label in over a decade. For that reason, his co-founder and best friend Saul (Mos Def) decides to cut him loose from the company. Making matters worse, he has been living separated from his wife (Catherine Keener) long enough to grow estranged from his teenage daughter, Violet (Hailee Steinfeld).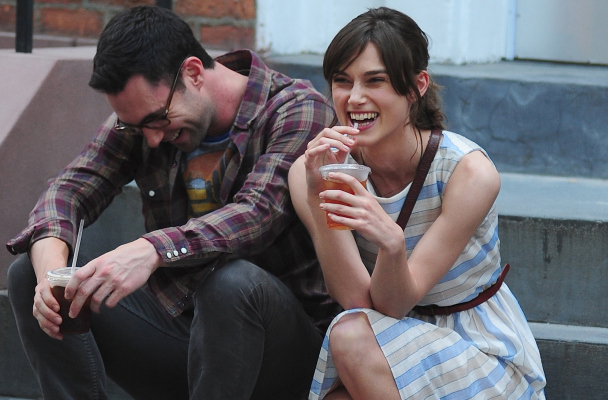 If Dan's life sounds bad, Greta's (Knightley) is even worse. The audience meets the aspiring singer/songwriter just after she has been dumped by her famous musician boyfriend Dave (Adam Levine). When Greta is coaxed into performing one of her songs at the same dive bar Dan finds himself guzzling yet another bourbon, something special happens. Call it destiny. Call it an epiphany. Call it good ol' fashioned movie magic. Whatever the reason, Dan sees something special in Greta's voice and talents and decides that he is going to groom her into becoming the next big thing in pop. 
Right from the start, it's pretty amazing just how good Knightley's singing voice really is. Her singing skills get quite the treatment, because just like Carney's previous directing effort "Once," "Begin Again" is filled with original songs. 
Also helping Knightley carry the melody is a strong supporting cast of actual musicians. From Maroon 5's Adam Levine to rapper Mos Def and even a cameo from CeeLo Green, music lovers will see plenty of familiar faces. While some performances are better than others — Levine might want to stick to music, while Mos Def could definitely see more roles further down the line —it still adds a flair of authenticity to the movie to see these icons on screen.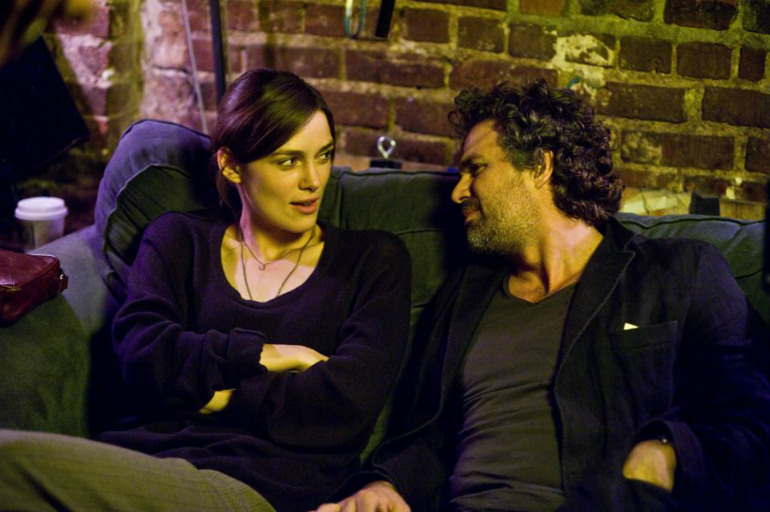 The Oscar nominated Mark Ruffalo is nothing short of fantastic. Yes, Dan's rough-around-the-edges demeanor is something Ruffalo is no stranger to playing. But just because a certain type of role suits him well, doesn't mean he doesn't play the part with any less passion. 
Dan's rekindled love of life after hearing Greta sing her heart out is an incredible moment. In true music producer fashion, the entire dingy bar she is playing in comes to life with the perfect, albeit, imaginary arrangement for her song. Instruments spring into action. A phantom audience can be heard clapping in the background. And Ruffalo's pure, unaltered joy for the moment, the music, and the opportunity is something that resonates for the rest of the movie. It's brilliant.
On the other side, Knightley will certainly make you fall in love with her as the vulnerable musician with an intense lust for the craft. In the hands of a lesser actor, the role could have easily been overwrought with emotion, but Knightley's three-dimensional, adult take on love lost is a happy reminder why she is one of the best in the business. The chemistry between her and Ruffalo is strictly platonic rather than romantic, but still all around touching. The pair seem like they could be best friends in real life. 
As Dan and Greta run around New York City creating a CD to submit to the big-time record label executives that could potentially sign her, there really isn't much room for supporting roles. With that being said, both Hailee Steinfeld (True Grit) — as Dan's daughter — and James Corden (One Chance) — playing Greta's hilarious friend — are worth noting. 
As musically driven as the story is though, John Carney never lets the focus shift from what the film actually is about: a tale of two damaged people who give each other a much needed emotional boost. This message, cobbled together through a fantastic screenplay and some even better original songs, makes for a memorable and melodious indie film.
By David Morris
Rated R for language
Running Time: 105 minutes