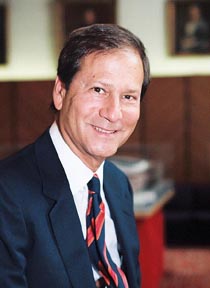 Lewis Katz, the co-owner of  Philadelphia Media Network, which is the publisher of The Philadelphia Inquirer, The Daily News and Philly.com died in a tragic private plane crash on Saturday night. The crash killed seven people during takeoff in Massachusetts.
In a statement made by Katz' son Drew Katz, he said, "It is with an incomprehensible amount of grief and the heaviest of hearts that my sister and I announce the loss of our beloved dad. My father was my best friend. He taught me everything. He never forgot where and how he grew up, and he worked tirelessly to support his community in countless ways that were seen and unseen."
The beloved businessman was also the former principal owner of the New Jersey Nets and New Jersey Devils, a former member of the board of governors of the National Basketball Association, and a current shareholder of the Nets and the New York Yankees. Mr. Katz also served as Chief Executive Officer of Kinney System Holding Corp. from November 1990 until Central Parking Corp. acquired Kinney in February 1998.
According to his bio, to support pioneering medical research, Katz established an annual prize and endowed a visiting professorship in cardiovascular research at Columbia University, where he served on the Board of Visitors of the medical school. His $15 million gift to The Dickinson School of Law at Pennsylvania State University helped fund a law school building that bears his name. A native of Camden, N.J, Katz established several programs to help Camden children.