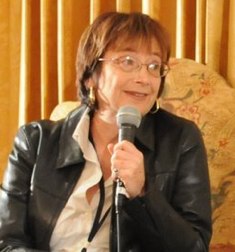 Photo of juror/film critic Ella Taylor
Tomorrow, June 11th marks the kick off for the Los Angeles Film Festival in conjunction with Presenting Media Sponsor the Los Angeles Times and Host Partner L.A. LIVE. They have announced the festival jurors for this year. 
The narrative jury consists of director Destin Daniel Cretton (I Am Not A Hipster, Short Term 12), who won the Audience Award for Best Narrative Feature in 2013, producer Stuart Cornfeld (Zoolander, Blades of Glory, Kafka, Dodgeball, The Fly, Tropic Thunder) and film critic Ella Taylor (NPR, Variety, The Wrap, The New York Times Arts & Leisure, LA Weekly, The Village Voice).
The documentary jury is comprised of editor Lynzee Klingman (Hearts and Minds, A River Runs Through It, One Flew Over the Cuckoo's Nest, War of the Roses), Spirit Award-winning director Margaret Brown (The Great Invisible, The Order Of Myths, Be Here To Love Me: Townes Van Zandt) and film critic and author Justin Chang (LAFCA, Variety).
The LA Muse jury includes award winning composer, singer-songwriter Kathryn Bostic (Middle of Nowehere, Make a Wish, I Will Follow, Dear White People), writer, director, producer Maryam Keshavarz (Circumstance, Dog Sweat, The Day I Died), Executive Vice President, Fox Audience Strategy Nicole Bernard, and director Kevin Bray (Walking Tall, All About the Benjamins, Linewatch).
The shorts jury consists of screenwriter, actor and director Todd Berger (It's a Disaster, The Scenesters), Spirit Award winning writer/director Kyle Patrick Alvarez (C.O.G., Easier with Practice) and casting director Julia Kim (The Texas Chainsaw Massacre, Get Shorty, Bedazzled, But I'm a Cheerleader), who won the Film Independent Robert Altman Award for Casting Director and Best Ensemble Cast for the film Starlet in 2013.
The Festival hosts juried cash awards for best narrative and documentary features, best feature from the LA Muse section, sponsored by Fox Audience Strategy and narrative, documentary and animated short film, sponsored by HBO. There will also be a jury award for best performance in the narrative competition. Audience awards are presented to best documentary, narrative and international feature, short film and music video. The Los Angeles Film Festival is a qualifying festival in all categories for the Film Independent Spirit Awards and for the Narrative and Animated Short Film categories at the Academy Awards.
The competition and audience award winners, presented by a special guest host, will be announced at an Awards Cocktail Reception sponsored by Loyola Marymount University's School of Film and Television on Thursday, June 19.