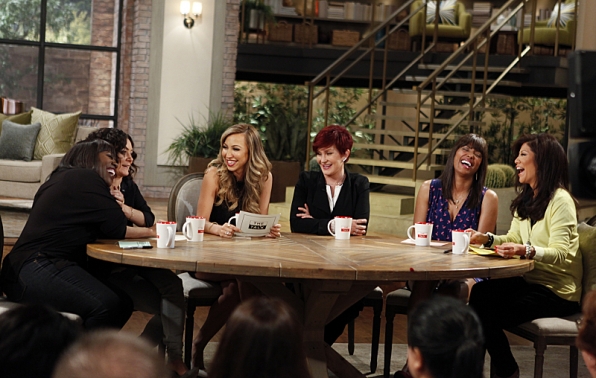 Photo: CBS – The Talk
CBS Daytime will celebrate "The 41st Annual Daytime Emmy® Awards" with a special multi-day live Twitter chat event featuring stars and producers from across the Network's Daytime Emmy Award-nominated lineup.  Beginning Friday, June 13, talent and producers from LET'S MAKE A DEAL, THE PRICE IS RIGHT, THE YOUNG AND THE RESTLESS, THE BOLD AND THE BEAUTIFUL and THE TALK will live-tweet every weekday, Friday, June 13 – Friday, June 20, leading up to daytime's biggest night on Sunday, June 22.
Actor Sean Kanan from THE BOLD AND THE BEAUTIFUL will kick off the live Twitter event on Friday, June 13. THE TALK hosts Julie Chen, Sara Gilbert, Sharon Osbourne and Sheryl Underwood will jump-start Daytime Emmy Week with a live group chat on Monday, June 16.  Model Tiffany Coyne (LMAD), actors Steve Burton, Doug Davidson and Christian Le Blanc (Y&R), actors Heather Tom and Scott Clifton (B&B), Executive Producer Mike Richards (TPIR) and CBS Daytime Senior Vice President Angelica McDaniel are scheduled to participate in chats throughout the week.
Join the Twitter conversation…

FRIDAY, JUNE 13
1:30 PM, ET/ 10:30 AM, PT: THE BOLD AND THE BEAUTIFUL (#BoldandtheBeautiful)
o Sean Kanan (@Seankanan)
MONDAY, JUNE 16
4:00 PM, ET/1:00 PM, PT: THE TALK (#talklivechat)
o Julie Chen (@JulieChen)
o Sara Gilbert (@THEsaragilbert)
o Sharon Osbourne (@MrsSOsbourne)
o Sheryl Underwood (@sherylunderwood)
TUESDAY, JUNE 17
12:30 PM, ET/ 9:30 AM, PT: THE YOUNG AND THE RESTLESS (#YR)
o Steve Burton (@1SteveBurton)
o Doug Davidson (@DougDavidsonYR)
o Christian Le Blanc (@CJLeBlanc)
1:30 PM, ET/ 10:30 AM, PT: THE BOLD AND THE BEAUTIFUL (#BoldandtheBeautiful)
o Heather Tom (@BBheathertom)
o Scott Clifton (@CliftonsNotes)
WEDNESDAY, JUNE18  
10:00AM, ET, 7:00AM, PT: LET'S MAKE A DEAL (#LMAD)
o Tiffany Coyne (@TiffanyCoyne)
THURSDAY, JUNE 19
11:00 AM, ET/ 8:00 AM, PT: THE PRICE IS RIGHT (#PriceIsRight)
o Mike Richards (@MRichTV)
FRIDAY, JUNE 20
4:00 PM, ET/1:00 PM, PT: Senior Vice President, CBS Daytime
o Angelica McDaniel (@AngelicaMcD)