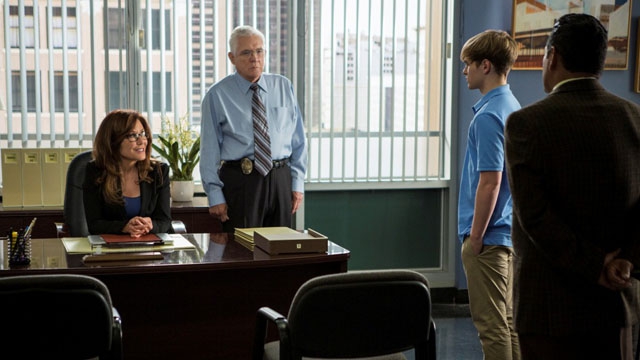 Photo: TNT
As fans of TNT's Top 10 drama Major Crimes prepare for the start of an all-new season, they will get the chance to enjoy a 19-hour marathon of the entire previous season. The marathon will begin running Sunday, June 8, at 2 a.m. (ET/PT) and will continue right up until the season three premiere on Monday, June 9, at 9 p.m. (ET/PT). Catch LATF The Magazine's feature interview with the show's star, Graham Patrick Martin HERE!

Major Crimes is headed by Oscar® and Emmy® nominee Mary McDonnell, G.W. Bailey, Tony Denison, Michael Paul Chan, Raymond Cruz, Phillip P. Keene, Kearran Giovanni, Graham Patrick Martin and Jonathan Del Arco, with Robert Gossett. The series explores how the American justice system approaches the art of the deal as law enforcement officers and prosecutors work together to score a conviction.
McDonnell plays Los Angeles Police Captain Sharon Raydor, who heads up a special squad within the LAPD that deals with high-profile or particularly sensitive crimes. Her team of investigators includes Bailey as Lieutenant Provenza, Denison as Lieutenant Andy Flynn, Chan as Lieutenant Mike Tao, Cruz as Detective Julio Sanchez, Giovanni as Detective Amy Sykes and Keene as tech expert Buzz Watson. Gossett plays Assistant Chief Russell Taylor, Raydor's boss, while Del Arco plays Dr. Morales, the medical examiner. And Martin is Rusty Beck, a formerly homeless teen who has been taken in by Raydor.
Cases the squad will be called upon to investigate in season three of Major Crimes include the disappearance of two kids and their father, the death of the defendant in a rape trial and a complex case involving arranged marriages and diplomatic immunity. In addition, one of Sanchez's old cases will resurface when it turns out a man he put away for manslaughter might be innocent. And Provenza and Flynn will be drawn to a ritzy estate to investigate the murder of a dog, but they're going to have to solve the case with unwanted help from an amateur sleuth they've encountered before. On the home front, Sharon Raydor will try to help Rusty put his turbulent past behind him, a goal made far more difficult when a member of the young man's biological family returns, threatening Rusty's hard-won stability.
The third season of Major Crimes is set to feature several recurring guest stars, including Screen Actors Guild Award® nominee Jon Tenney (The Closer, Scandal), Golden Globe® and Emmy® winner Tom Berenger (Platoon, Hatfields & McCoys), Screen Actors Guild Award® nominee Bill Brochtrup (NYPD Blue, Shameless), and Emmy® nominee and Image Award winner Malcolm-Jamal Warner (The Cosby Show, Malcolm & Eddie). The roster for season three also includes recurring guest stars Ransford Doherty (The Closer, Caribe Road) and Kathe Mazur (The Closer, Alias); Andrew Daly (Silicon Valley), reprising a role he played on The Closer and Azita Ghanizada (Alphas, X's & O's).