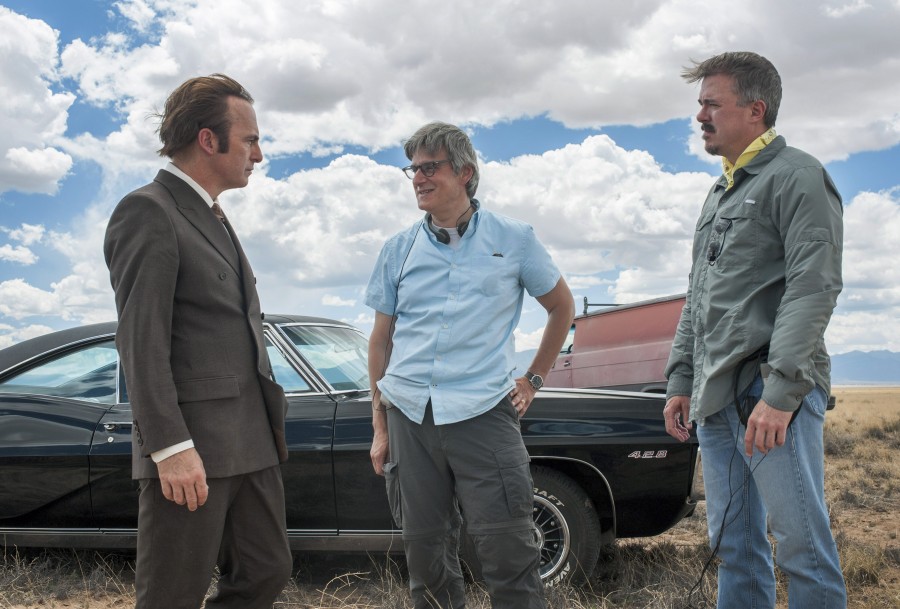 AMC provided the first of several planned updates on the "Breaking Bad" prequel "Better Call Saul," including the release of a first-look photo from the Albuquerque, New Mexico set where the widely-anticipated drama began production on its first 10-episode season earlier this month.
This update includes:
"Breaking Bad" creator and showrunner Vince Gilligan is directing the "Better Call Saul" series premiere, and co-showrunning along with fellow "Breaking Bad" alum Peter Gould, creator of the Saul Goodman character.
AMC confirmed it has already ordered a second season of 13 "Better Call Saul" episodes, for an initial total of 23.
The network also announced a change of the series schedule with "Better Call Saul" premieres slated for early 2015 and early 2016, respectively. Specific dates will follow, but the show will join "The Walking Dead" and "Talking Dead," two of television's top-rated hits, on AMC in the first quarter of each of the next two years.
The first-look photo shows Gilligan and Gould from the set, with star Bob Odenkirk (Saul Goodman).
"Production on 'Better Call Saul' is underway and we could not be more proud of nor more excited about the work to date. We join the fans in eager anticipation for this series and today we happily confirm that our initial 'Saul' order is for two seasons and a total of 23 episodes," said AMC president Charlie Collier. "When introducing any series, especially one with the DNA of 'Breaking Bad,' there are countless factors to consider in making sure the show gets the launch it deserves. We have a strong history with Vince, Peter, Bob, the studio and so many involved with this production; we are enjoying the process on 'Saul' and all share a focus on making it a true television event. No half measures."
In addition to Gilligan and Gould, several "Breaking Bad" writers have returned to work on "Saul," including Thomas Schnauz and Gennifer Hutchison. Bradley Paul has also joined the writing team, along with Gordon Smith, who was a writers' assistant on "Breaking Bad." "Better Call Saul" is executive produced by Gilligan, Gould, Mark Johnson ("Breaking Bad," "Diner," "Rain Man") and Melissa Bernstein ("Breaking Bad," "Rectify," "Halt and Catch Fire") with "Breaking Bad" alums Stewart A. Lyons and Schnauz as co-executive producers for Sony Pictures Television.