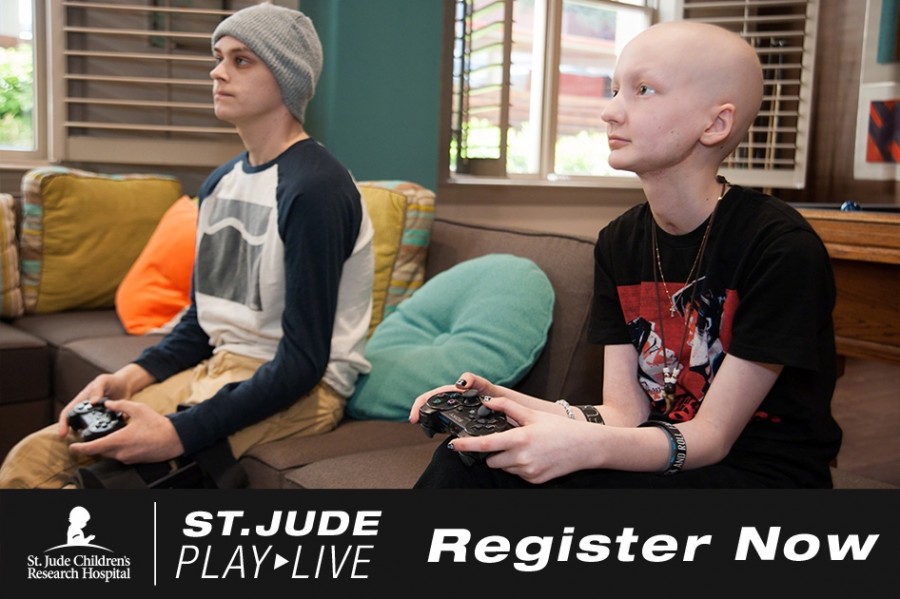 St. Jude Children's Research Hospital® is powering up a new videogame charity program with help from some of the top streaming gamers, including Johnathan Wendel (Fatal1ty), "Ellohime," "CohhCarnage," Danielle Mackey (Panser), actress Zelda Williams, a team from Twitch, the world's leading video platform and community for gamers, and GameStop, the world's largest videogame retailer and official PLAY LIVE gaming sponsor.
Several of the gamers recently visited the hospital, bringing their passion for games, along with their controller skills, to help St. Jude prepare to launch a summer gaming season that will excite and engage players and raise funds to "zerg" (defeat) childhood cancer.
St. Jude PLAY LIVE is a chance for gamers to use their skills at overcoming virtual enemies and obstacles to raise money so that kids can continue to win very real battles with cancer and other deadly diseases, and to ensure that no family ever receives a bill from St. Jude for anything.
The 12-week program kicks off June 13, in concert with Twitch, and ends midnight, Sept. 1, featuring titles such as League of Legends, Dota2, Minecraft, StarCraft II, and a host of indie games.
The gaming industry is booming – it's a $21-billion industry and the fastest growing segment of entertainment, according to the Entertainment Software Association (ESA), engaging hundreds of millions of people from around the world daily. Sales of virtual goods have reached $1 billion annually, and forecast to reach more than $4 billion by 2016. 
Virtual goods sold, bought or won for charitable causes are also on the rise, connecting a growing number of consumers with causes that matter to them. Additionally, many consumers are discovering a cause or organization for the first time through gaming, introducing them to philanthropy.
Players' average age is 31, 10 years older than a decade ago, and, collectively, the world spends 3 billion hours every week playing video games, reports ESA, including games created especially for women and seniors.
St. Jude PLAY LIVE will also provide students the chance to earn service hours. More and more organizations – sororities and fraternities, Key Club and others – consider service hours a critical part of service leadership and community engagement. In St. Jude PLAY LIVE, student players can earn 10 service hours per $100 raised, and every dollar raised helps more kids fighting for a chance at life. St. Jude gaming ambassadors CohhCarnage, Mackey and Ellohime are supporting with pledges of fundraising or donations from their personal streams.
"Having worked with many charities in my time streaming, St. Jude Children's Research Hospital is by far the most impressive group of individuals dedicated to the simple pursuit of bettering our quality of life," said Ellohime, who is donating 10 percent of his Twitch earnings to St. Jude. "It is one thing to see such passion and positivity within the working members of its organization, but something entirely different and profound to see those qualities spread to the patients and families of those they help. I cannot wait to be a part of the St. Jude PLAY LIVE movement and do my part."
To reach as many players as possible, St. Jude PLAY LIVE is working with Twitch and GameStop. Twitch sees more than 45 million people visit its site monthly to broadcast, watch and play games around the world. Zelda Williams, actress and serious gamer, plans to host a stream on the St. Jude PLAY LIVE Twitch channel. Twitch also has issued a $250,000 Challenge – the first 250 gamers who sign up and raise $1,000 receive a highly prized purple custom Twitch hoodie.
GameStop is offering the grand prize package, an all-expense paid trip for two to their highly anticipated 2014 GameStop Expo, Sept. 10, in Anaheim, California, to the top fundraiser. The top four fundraisers will receive an all-expense paid trip to the 2014 GameStop Expo, Sept. 10, in Anaheim, California.
Registration for St. Jude PLAY LIVE is open now at playlive.stjude.org, and fundraising opens June 13.