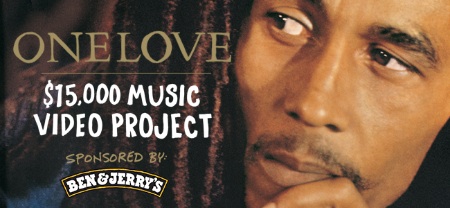 Got ideas? Tongal has a new project with Ben & Jerry's and Tuff Gong International to create a brand-new music video for Bob Marley's classic track, 'One Love.' The project celebrates 30 years of Marley's seminal hits album, "Legend" and the spirit of togetherness that his music has inspired for the last half century. 
The 'One Love' project offers Tongal community members a once-in-a-lifetime opportunity to create a new visual identity for the iconic 1977 track from Bob Marley and the Wailers. Ideators and filmmakers are encouraged to include themes of social connectedness, 'we're all in this together' and making the world a better place, virtues that Marley professed throughout his distinguished career. Fans can submit their ideas for a tasteful means of celebrating the iconic musician. 
"Bob Marley's music has remained timeless for generations around the world, so it's a very special opportunity for Tongal to bring one of his most beloved tracks to life," said James De Julio, Co-Founder and President of Tongal. "Our global community will embrace this challenge by creating inspiring videos that honor his legacy as one of the greatest performers in history."
Ben & Jerry's has a long history of mixing music and ice cream, working with musicians who share their values and celebrating the partnerships with edible tribute pints that help to fund social projects. Stay tuned for the premiere of the completed video and details on how this partnership will help to further the mission for a fairer world and empower the next generation of music and ice cream lovers to pursue a higher calling.
More details about the Marley 'One Love' project can be found at www.tongal.com/project/onelove