Internationally acclaimed singer-songwriter Aloe Blacc releases a brand new song today. "Hello World" was Blacc's inspiration for his part of the global mash-up "The World is Ours" by Aloe Blacc X David Correy which is the official anthem of the Coca Cola FIFA 2014 World Cup campaign. "Hello World" is available for digital download and streaming via digital subscription services today, Tuesday, June 17th.
Blacc is currently out on a U.S. tour with Bruno Mars in support of his major-label debut album Lift Your Spirit and new single "Love Is The Answer." He will make his acting debut in "Get On Up," the James Brown biopic scheduled to hit theaters on August 1st. Blacc will perform at the "Get On Up: A James Brown Celebration" at the Hollywood Bowl on August 13th.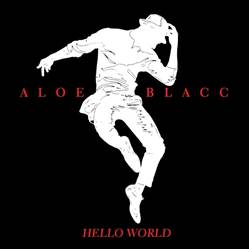 Aloe Blacc released his major-label debut album Lift Your Spirit March 11th on XIX Recordings/Interscope Records where is debuted at #4 on the Billboard Top 200 chart.  The set follows up Blacc's collaboration as vocalist and co-writer on well-known DJ/producer Avicii's track "Wake Me Up," a song that hit the Top 5 on the Billboard Hot 100 and #1 on its Hot Dance Club Songs and Dance/Electronic Songs charts, as well as topping charts in more than 100 countries. Blacc's single "The Man" topped the charts with more than 2.3 million singles sold to date. To learn more about Aloe Blacc, visit www.aloeblacc.com and follow him on Twitter (@aloeblacc).