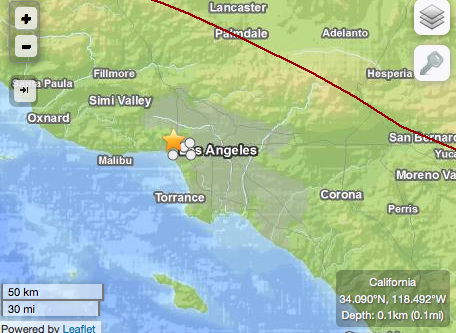 Those closest to the center point 3 miles from Westwood, CA felt the 4.2 earthquake that hit Los Angeles on Sunday night around 7:30PM. According to the U.S. Geological Survey, the 4.2 quake hit at a depth of 0 miles. 
According to the USGS, the epicenter was four miles from Santa Monica, four miles from Beverly Hills and six miles from Culver City.
There was an earthquake with a 3.0 magnitude in the last 10 days.
Back in mid-March an earthquake with a 4.4 magnitude occured at a depth of about 5 miles across the Los Angeles basin. A 5.1 struck a couple of weeks later towards the end of the month.