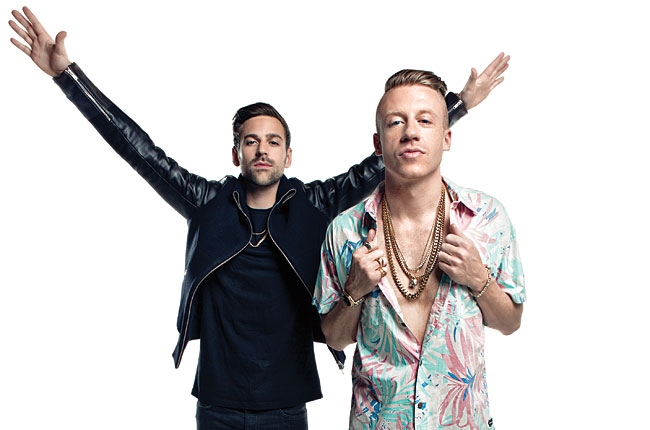 Are you the next great music producer? 
Buffalo David Bitton and Ryan Lewis, from the multi-Grammy Award winning hip-hop duo, Macklemore & Ryan Lewis, announced a search to find the next great music producer. The contest has launched online at www.buffalojeans.com and will culminate online on May 9th.
Contestants who think they have what it takes to impress Ryan Lewis should go to www.buffalojeans.com to enter the contest by uploading a link of themselves showing off their best original beat. Ryan Lewis will then select the top twelve contestants who will be invited to New York for a once in a lifetime "Buffalo Beat Battle" with Ryan Lewis. The contestants will showcase their music in person and duel for the Grammy award-winning producer, who will then select the winner. The winner will receive $5,000, a shout out on Twitter from Ryan Lewis and a shopping spree from Buffalo David Bitton. 
"I've always loved beat battles, they were an important part of my journey as a young producer. One of the best parts about them was seeing talented producers have a platform to get some shine. I'm excited to hear and support something brand new," said Ryan Lewis. 
Buffalo David Bitton has a long association with music, including collaborations with various artists on music videos, partnerships with celebrity DJs, involvement with SXSW music showcases and sponsorship of the 2013 Billboard Music Awards. In addition, the brand has featured stars from the music realm in marketing campaigns, including musician Max George for Fall 2013, and most recently, producer Ryan Lewis for Spring 2014.
The upcoming "Buffalo Beat Battle" will be the third partnership for Lewis and Buffalo David Bitton. In addition to selecting Lewis to star in the Spring 2014 campaign, Buffalo David Bitton kicked off its "Blank Check Series" project in late 2013, providing Macklemore & Ryan Lewis with funding to produce a series of documentaries of their first worldwide arena tour. Buffalo David Bitton's "Blank Check Series," is a program which supports self-expression and the arts by partnering with today's cultural innovators. 
For contest rules and regulations please visit:www.buffalojeans.com