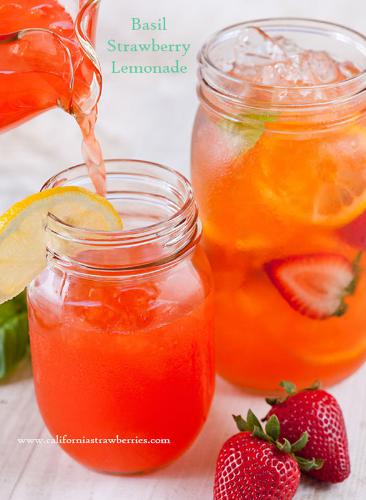 Basil Strawberry Lemonade
A refreshing drink on a sunny afternoon
Serves 4
Ingredients:
1 quart water
1 cup lemon juice – freshly squeezed
1/2 cup sugar
1 pound California strawberries – rinsed
1/2 cup fresh basil leaves
1 pinch salt
Lemon slices, for garnish
Fresh California strawberries, for garnish
Fresh basil leaves, for garnish
Directions:
-Combine all ingredients in a blender and blend at high speed for just 20 seconds.  
-Pass through a strainer and keep refrigerated until ready for the party.  
-Serve over ice with slices of lemon, strawberries and basil leaves as garnish.
As an alternative idea, try this as a cocktail. It's great with vodka, champagne, or dry white wine.          
For these and more recipes, nutrition tips, and to enter the California Strawberries #StrawberryRed digital camera giveaway, please visit California strawberries on Facebook at – www.facebook.com/castrawberries.
In addition to Facebook, follow California Strawberries: