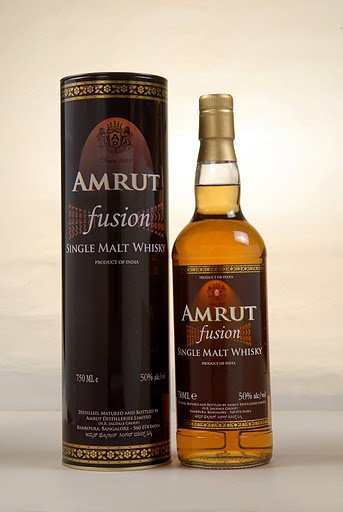 If the Dad in your life likes an occasional cocktail, there may be no better Father's Day gift than 'a good pour;' a phrase used by bartenders to describe pouring a good shot of booze… either neat, on the rocks, or as part of a cocktail.
When I was younger, I preferred sweet drinks.  Now that I am a little more discriminating, I favor whisky and am always in the market to try something new.
I recently read a review on Amrut Fusion Single Malt Whisky, imported exclusively by PVI Global from Amrut's 48 year-old distillery located in Bangalore, India.  Intrigued, I just had to try it.
Amrut Fusion Single Malt Whisky, a combination of 75% single malt and 25% peated single malt, is featured in The Whisky Bible 2010 as the "3rd finest whisky in the world" and in The Whisky Advocate as "World Whisky of the Year 2011." The whisky promises a nose that is rich, fruity, spicy and citrus, with a creamy sweetness and hint of peat;  palate notes that are oaky, rich, gentle peat, coffee, fruity, and dark chocolate; and a  finish that has a long, spiced marmalade sweetness. It certainly sounds delicious.
The first sip of this single malt whisky warms you all the way down… It has a rich, intense aroma with a hint of peat and a slight burn. After the whisky diffuses with water, the burn is gone and, in its place, there is an underlying sweetness that is very pleasant and lingers throughout your sipping experience.   
Amrut Fusion Single Malt retails in the U.S. for around $75, and is a great pour.
By Deborah Bauer
For more info visit: http://www.amrutwhisky.co.uk