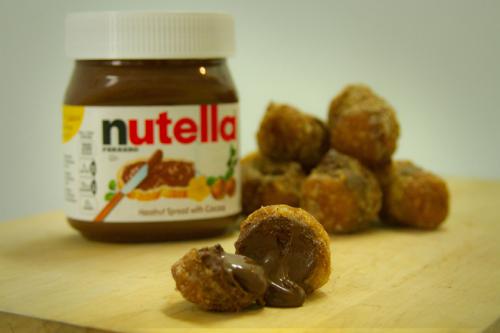 Nutella hazelnut spread celebrates its 50th anniversary today with a party for its fans in New York City. Ferrero U.S.A. Inc., the makers of Nutella®, has teamed-up with Dominique Ansel, Chef and Owner of Dominique Ansel Bakery in New York City and creator of the Cronut™, to create special limited edition Cronut™ holes made with Nutella®. These delicious treats are available today only* and will be distributed by Chef Ansel himself throughout the event.
"I'm thrilled to be partnering with Nutella to help celebrate its 50th anniversary. I have fond memories of enjoying Nutella at breakfast as a little boy in France and have always been an enthusiast. Having the opportunity to incorporate Nutella into bite size versions of the Cronut™ has been a real joy and I look forward to seeing fans enjoy this special treat," says Dominique Ansel.
Beginning at 10:00AM EDT at The Broadway Pedestrian Plaza between 23rd and 24th streets, fans in New York City will enjoy live music from singer Holley Maher, free samples of Nutella* paired with various foods, interactive games, a photo opportunity to help fans show their love for Nutella on social media, and Nutella gear giveaways!  
"The passion our fans have for the Nutella brand is incredible. They have a deep personal connection to the hazelnut spread and are constantly engaging with us via social media. We're so excited to celebrate alongside them at this anniversary event and kick-off our national tour which will spread the happiness one finds in a jar of Nutella throughout the country," says Eric Berger, senior brand manager for Nutella® at Ferrero U.S.A., Inc. "We look forward to continuing to promote their love and passion for Nutella® and celebrating fifty more years!"
In addition to the celebration, the event will include the debut of a new Nutella® food truck which will "Spread The Happy" across 16 U.S. cities by offering complimentary samples of Nutella, games and more.
For those fans who love the brand and want to further celebrate the 50th anniversary of Nutella, the brand asks them to share their own personal, memorable moments that involve Nutella® through the "Nutella® – 50 Years Full of Stories" campaign. Fans can submit their personal Nutella story at the www.nutellastories.com website in the form of text, photo or video postings.   
For more information on Nutella® please visit Nutellausa.com  and check out Nutella® USA Facebook, Twitter, Instagram and Pinterest pages at Facebook.com/Nutella,  Twitter.com/NutellaUSA, Instagram.com/NutellaUSA and Pinterest.com/NutellaUSA. For "Spread the Happy" Truck Tour dates and locations as well as delicious ways to enjoy Nutella, please visit the Nutella Tumblr at NutellaUSA.Tumblr.