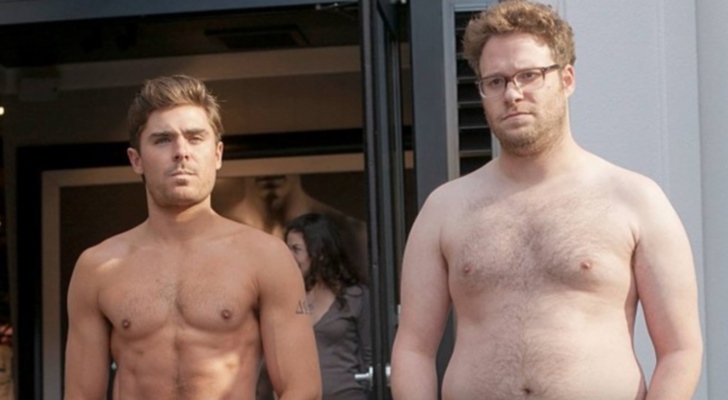 College. For most Americans, it is a time of blissful over indulgence in such things as booze, drugs, and sex. Nicholas Stoller's (Forgetting Sarah Marshall) latest film "Neighbors," doesn't shy away from these dirty deeds either. Starring Zac Efron and Seth Rogen, this gross-out comedy is just over ninety minutes of pure, in your face debauchery. Yet, whereas college is a time where memories last forever, "Neighbors" is nothing short of a hangover in feature film form. Grab some Tylenol, because things are about to get messy.
Loosely based on the 1981 comedy of the same name, 2014's "Neighbors" pits a happy couple with a brand new house and a newborn baby (Rogen and Rose Byrne) against a local frat house lead by Efron. In typical high-concept comedy fashion, hilarity is supposed to ensue. Unfortunately, someone clearly forgot to tell that to the screenwriters.
Penned by newcomers Andrew J. Cohen and Brendan O'Brien, there really isn't anything inherently funny about the script. Instead of taking the time to craft a joke with a thoughtful punch line, the pair writes as if they are trying to tap into the mindset of a College Senior that just scored some Adderall during Finals week. Simply put, they're writing for kids with the attention span of Goldfish and the IQ of a Scarecrow. But hey, maybe that's how far teen comedies have stooped in recent years.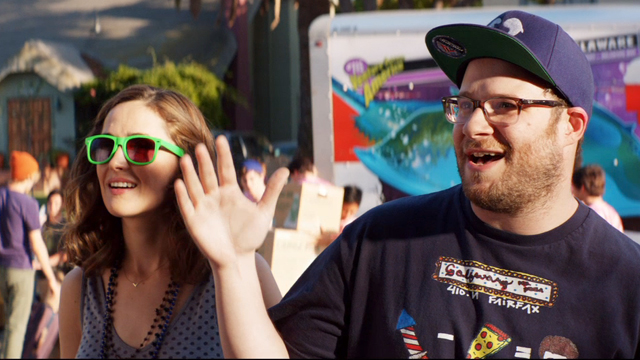 By throwing everything against the wall in the hopes that some of it will actually distract the audience enough to invoke an occasional spurt of laughter, Cohen and O'Brien painfully introduce the audience to Mac (Rogen) and Kelly (Byrne). Rogen, who has seemingly spent his entire career playing the stoner schlub, steps slightly out of his comfort zone this time around. His Mac character is a brand new Dad, and has plenty of responsibilities as a family man. Joining Mac, in a match made only in Hollywood, his wife Kelly is equally as childish, but at least sports a smoking hot Australian accent.
You don't have to be Dr. Phil to figure out that Mac and Kelly are much better suited for a life of partying rather than parenting, but that doesn't stop the loving couple from giving it their best. The audience follows along as new Mom and Dad try to make ends meet, play with their newborn, and even make a valiant attempt to bring their baby to a rave dance party. You know, typical parenting stuff.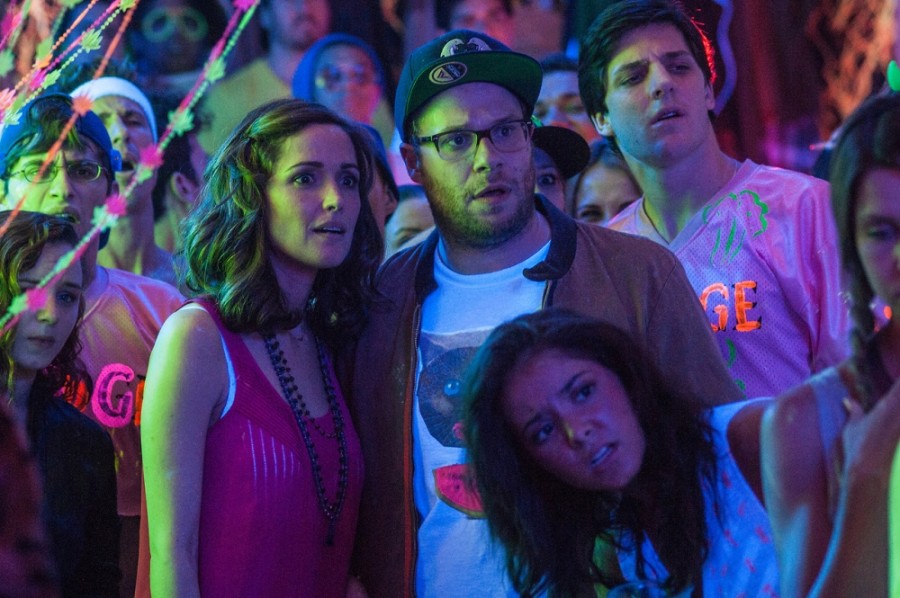 Yet, lurking a single freshly manicured lawn away, is the newly relocated Delta Psi house. Lead by President Teddy Sanders (Efron) and his number-two in command Pete (Dave Franco), the pair have one goal for their senior year: go out in style. Regrettably for Mac and Kelly, this involves throwing huge parties on a daily basis. And even though the newlyweds try their best to "level" with their new neighbors, soon things escalate into a vulgar game of revenge.
Watching a bunch of overly good looking, infantile teenagers banter back and forth in a crude, hyper angsty way is painful enough, but when your two central characters are equally devoid of morals, the result is a motion picture that feels more like a midterm examination than a film about the joys of collegiate culture.
Here's a pop quiz. Question one: How much mindless back and forth squabbling from Rogen and Efron can one take before a dull pain develops in the back of said person's head? The Answer: none.  
Bonus Question: How much chemistry do Rogen and Byrne have as parents? The Answer: none again.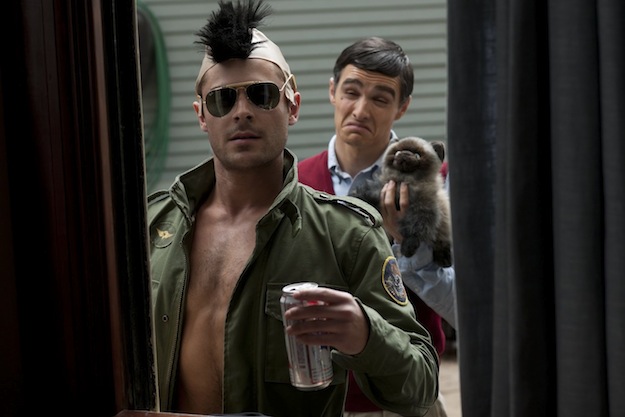 While significantly better than his previous comedic outing "That Awkward Moment," Efron is still trying to find his place in Hollywood as a post-tween heartthrob. The actor certainly has a sense of humor, and his abilities as an actor are occasionally on display, but Efron still lets his chiseled abs carry the bulk of his scenes. If Efron wants to once and for all rid himself of his "High School Musical" former self, he really needs to find a meatier role than a hyper-sexualized college hunk.
As for Rogen and Byrne, their failed attempt to reconnect with their younger selves comes off as nothing but awkward.
But that's the whole joke, right?Even though you grow up, have a kid, buy a house, and eventually work a 9 to 5 every day, you're still just as immature as you were back when you were 21. Byrne and Rogen sure do a good job making 30-somethings look just as stupid as 20-somethings. But to portray this subtle and sad truth about aging into true adulthood, takes a lot more precision than the sloppy gag fest that is presented on screen. Everything's funny in moderation, but eventually there needs to be a little heart in even the most hedonistic of comedies.  That's what's missing from "Neighbors."
This film is nothing short of a disappointment. It is a perfect example that even combining a director with a proven track record with an established Hollywood funnyman and an up-and-coming star doesn't guarantee success. While the film definitely has a few moments of brilliance — Dave Franco's De Niro impression is killer — and a refreshing soundtrack composed by Michael Andrews (Bridesmaids), the end result made me want to chug a beer, not out of nostalgia to relive my university days, but to numb the fact that I wasted 96 minutes on this tedious romp.
By David Morris

Rated R for pervasive language, strong crude and sexual content, graphic nudity, and drug use throughout