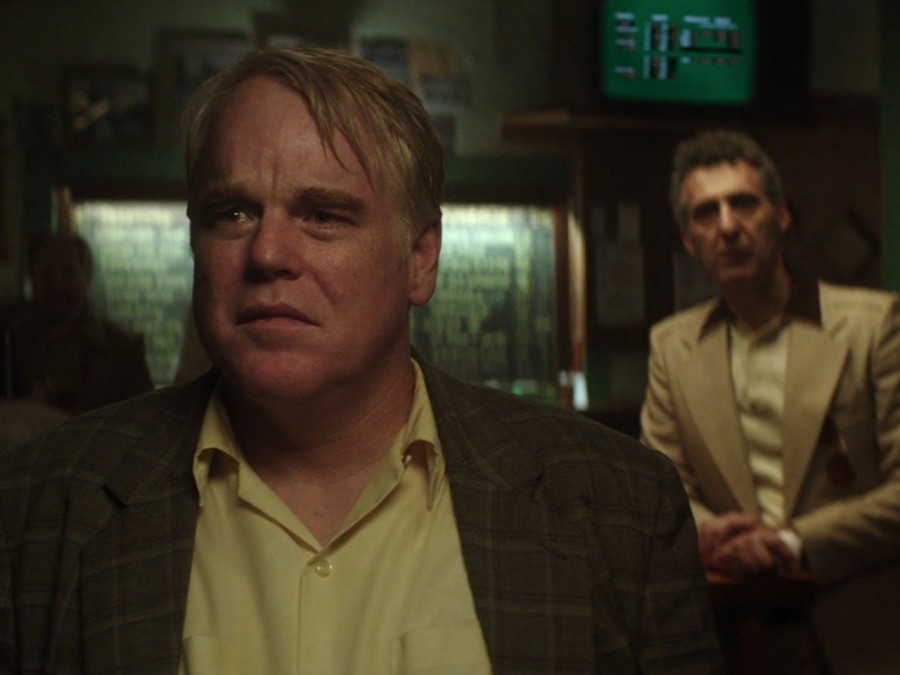 Although the tragic passing of Philip Seymour Hoffman was an unfathomable loss to film and theatergoers the world over, fortunately his genius will live on through his performances captured on celluloid. The status of his Showtime series, "Happyish," remains uncertain (he starred in the pilot), but audiences can still look forward to his work in four upcoming films: "Hunger Games: Mockingjay – Parts 1 and 2," "A Most Wanted Man," and up next, "God's Pocket," a black comedy co-starring Christina Hendricks, John Turturro, Eddie Marsan and Richard Jenkins.
Over the past few years, "Mad Men" actor John Slattery has gotten his feet wet behind the camera by helming five episodes of his hit AMC series, but "God's Pocket" marks his feature directorial debut. And judging by the tonal inconsistencies, blue-collar stereotypes and dramatic inertia that constitute this competent but uninspired work, the transition is a little rocky. 
Everybody knows everybody in God's Pocket, the working-class Philly suburb in which the film is based. They may punch each other in the face and dabble in organized crime here and there, but at the end of the day they're a tight-knit community that looks out for one another. It's in this 1970's-set milieu that we meet Mickey Scarpato (Philip Seymour Hoffman), a meat truck driver and occasional booster who's in business with a compulsive gambler named Bird (John Turturro). Bird's antics have gotten Mickey into plenty of jams, but since Mickey is an outsider to God's Pocket and Bird set him up in business, he has learned to roll with the punches.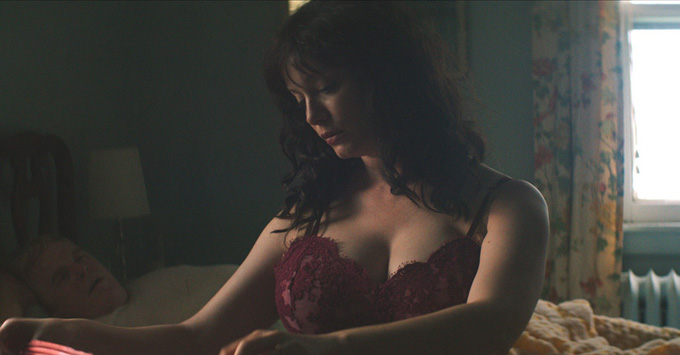 Mickey is at a low point in his marriage to Jeanie (Christina Hendricks), the local sexpot and mother of enfant terrible, Leon (Caleb Laundry Jones).  Their life, which consists of booze, passionless sex and general boredom, doesn't exist beyond the confines of God's Pocket.
Leon is Mickey's stepson, which makes Mickey not only an outsider in God's Pocket, but in his own home as well. Everything about Leon is despicable – his self-importance, his slovenly appearance, his racism, all of it – and so when he dies "accidentally" at his construction job in the opening ten minutes, the audience response is an understandable, "Good riddance." Leon's coworkers, equally abhorred by him, have no problem backing up the foreman's version of events when the police come knocking. But when Jeanie hears of the tragedy, she suspects foul play and enlists Mickey to get to the bottom of it.
Meanwhile, Richard Shellburn (Richard Jenkins), a washed-up alcoholic reporter who is a messiah among the folks of God's Pocket for his fond editorials about their community, is tasked with reporting on Leon's accidental death. But when he meets the vulnerable Jeanie and her considerable, um, assets, let's just say he loses sight of his deadline.
As Mickey tries to scrape together the money for the funeral, he is beset by a series of mostly self-inflicted comical setbacks.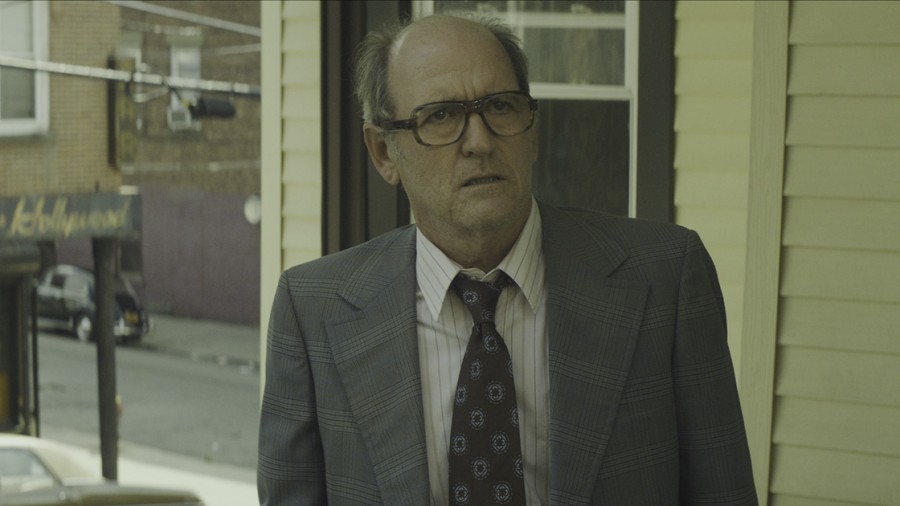 The biggest compliment that can be extended to "God's Pocket" is that it boasts fine performances from a cast of seasoned actors. Hoffman brings an authenticity to the meat-and-potatoes Mickey and does his best to heighten the material before him, but his character is too underdeveloped for him to do much with it. He is plagued by so much misfortune, and handles it with such comedic understatement, that he comes across as somewhat of an enigma. Although his character is dealing with a tragedy in his life, the dark comic tone makes his few moments of true despair feel misplaced. His best moments are when he's cracking wise with Turturro's Bird, arguing over which horse to bet on, and handling the funeral arrangements with hilarious inefficiency. Richard Jenkins is reliably funny as the boozy veteran reporter whose sole motivation in life is chasing women, as is Eddie Marsan in the role of the opportunistic funeral director; but these characters don't exist beyond the surface. They're good for a few laughs and little else.
Co-written by Slattery and Alex Metcalf and based on the novel by Pete Dexter, "God's Pocket" is plagued by a stillborn, episodic script that never quite decides what it wants to be. The story is unfocused and consequently the film just kind of ambles along without much concern for dramatic structure. For most of the proceedings, the black comedy meshes well with the bleak setting.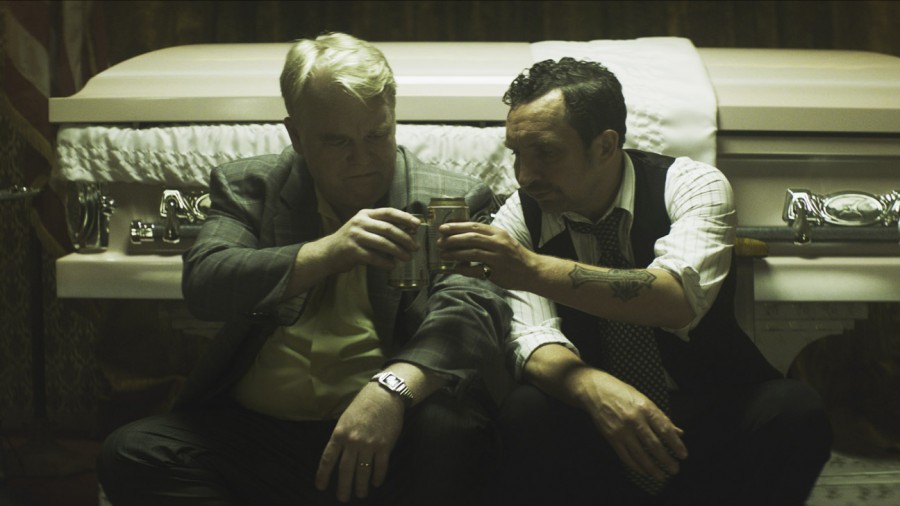 Everything in God's Pocket eventually goes to pot, and we watch in amusement as one predicament after another befalls Mickey. But then this comedic tone is punctuated by unexpected moments of violence that throw the audience for a loop.
Although the characters are one-dimensional, Slattery succeeds in capturing the gritty setting through his work with cinematographer Lance Acord ("Lost In Translation"), who saturates the frame with drab colors that evoke the period. And unlike many first-time filmmakers who are hell-bent on showcasing their talents with pretentious, self-serving shots, Slattery wisely keeps his direction serviceable and understated. He shows definite promise behind the lens, but with future projects Slattery may want to be more discerning in his choice of material.
For those curious about one of Philip Seymour Hoffman's final performances, "God's Pocket" is worth checking out, as it exemplifies his singular talents and versatility as an actor.  But as an overall movie going experience, you will likely be underwhelmed.
By Lucas Mirabella
Rated R for violence, language and sexual content; 88 Minutes.
http://www.ifcfilms.com/films/gods-pocket