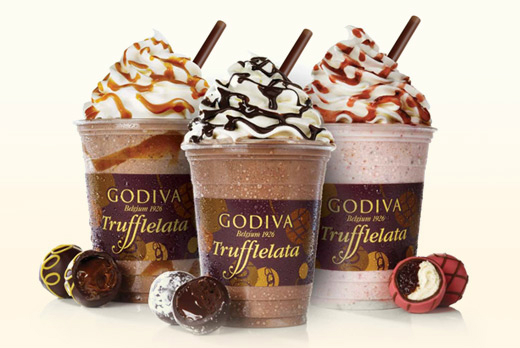 With summer right around the corner, GODIVA Chocolatier announces the launch of a new refreshing beverage that will delight premium chocolate lovers everywhere: GODIVA Trufflelata™. Trufflelata™ offers a new, fresh twist on the traditional GODIVA shake by providing a customized delectable treat experience blended with GODIVA premium truffles – it's a truffle in every sip.
Unique in the frozen beverage category, GODIVA Trufflelata™ is the newest authentic Belgian chocolate offering from GODIVA and is available in six delicious flavors, including Chocolate Lava Cake, Salted Caramel, Strawberry Creme, Hazelnut Crunch, Milk Chocolate and Oreo®* Cookie. To create the GODIVA Trufflelata™, the truffle of choice is selected and then blended into the beverage to create a personalized shake. With the blending of these premium truffles, GODIVA's traditional shakes are transformed into a creamy and satisfying frozen treat.
This new offering demonstrates GODIVA's continued commitment to providing new, interesting and memorable premium chocolate products that consumers can enjoy every day.
GODIVA Trufflelata™ retails at $6, replacing the existing GODIVA shakes line. For more information about GODIVA or to read more about the new Trufflelata™, please visit www.GODIVA.com/Trufflelata.