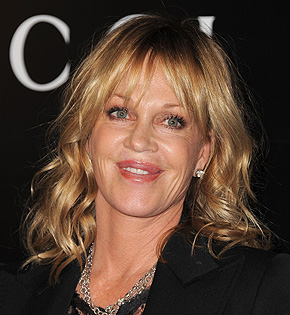 The recently announced true-crime saga "Facing The Wind" expands its castwith the addition of Oscar-nominated and Golden Globe-winning actress Melanie Griffith (Working Girl, Pacific Heights, Dark Tourist). Griffith joins the already cast Vera Farmiga, Jennifer Beals and Rita Wilson.

Based on the best-selling book of the same name, Facing the Wind tells the true story of Bob Rowe, to be played by Alessandro Nivola (American Hustle, Devil's Knot), a model husband and father whose profound psychic unraveling leads him to commit an unimaginable act of violence against those he holds dearest and his subsequent search for redemption. The trial of Bob Rowe for the quadruple familicide of his entire family represented one of the first successful uses of the insanity defense in New York State and this historic 1978 legal case has never been explored in a film before.
Oscar-nominated Vera Farmiga (Up In the Air, Bates Motel) is attached to play Bob Rowe's first wife Mary, whom he kills, while two-time Golden Globe nominee Evan Rachel Wood (Thirteen, The Wrestler) plays Bob's second wife, with whom he marries and starts a new life after avoiding a prison sentence by pleading the insanity defense at trial.
Melanie Griffith will play the role of Sylvia – one of several women in a circle of close-knit friends who share the bond of grief and anger about the murders as they confront Bob Rowe's second wife, Colleen, twenty years after the horrific slayings, wanting to understand how Bob was able to start a new life with Colleen after killing his entire family. This small ensemble group also includes Rita Wilson (It's Complicated) and Jennifer Beals (The Book of Eli). The present-day interrogation of Colleen by this group of friends provides a springboard to flashback in time to tell the story of the killings, but shifts the dramatic focus away from being a voyeuristic examination of a crime to the emotional and psychological journey of Bob's second wife, enabling the husband (Bob Rowe) an opportunity for redemption and allowing the audience to confront issues of guilt, innocence, forgiveness and compassion in a fresh, and compelling manner.
Academy Award-nominated director Joe Berlinger (Brother's Keeper, Crude, Metallica: Some Kind of Monster) is no stranger to true-crime tales, as his Paradise Lost trilogy for HBO recently led to the release of the wrongfully-convicted West Memphis Three from prison after spending two decades in prison for a triple- homicide they did not commit; and, his new eight-part series on flaws in the criminal justice system (The System with Joe Berlinger) debuted on Al Jazeera America this past Sunday. Berlinger will also produce along with Elizabeth Fowler (Devil's Knot). 
Facing the Wind is scheduled to begin shooting later this year in and around New York City.