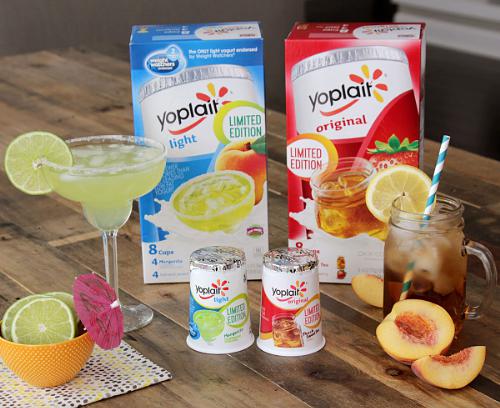 For those on a health kick (which is most everyone in Los Angeles), you should know that yogurt is an important part of your balanced diet. According to WebMD, 'your body needs to have a healthy amount of "good" bacteria in the digestive tract, and many yogurts are made using active, good bacteria.' So why not intake more yogurt with a great taste?
Yogurt lovers can again enjoy the creamy goodness of Yoplait® yogurt spring seasonal flavors–Yoplait Light margarita and Yoplait Original sweet tea-flavored yogurt–but only for a limited time.
With limited edition margarita-flavored Yoplait, it can be 5 o'clock anywhere. Or if you're celebrating Cinco de Mayo this spring, bring Margarita Yogurt Dip to the party. Just beat cream cheese, margarita-flavored yogurt and finely shredded lime peel until creamy. Serve in a rim-salted margarita glass with cut-up fresh fruit, such as mango, honeydew melon or strawberries. Fresh cut-up strips of jicama or even lime tortilla chips make a nice touch too.
For a nice refreshing salad with a touch of sweet tea, try a Spring Salad with Ginger Peach Tea Dressing. Made with Yoplait Original peach sweet tea flavored-yogurt, water, rice vinegar, a little ground ginger and salt, this dressing drizzled on top of a bed of greens, mango, strawberries and broken pecans is refreshingly delicious.
Welcome spring and serve your family and friends fun new flavors with all the benefits of yogurt. Both flavors are a high in calcium and contain good source of vitamin D. Yoplait Original peach sweet tea-flavored yogurt contains 5g of protein per 6 oz-serving with 170 calories and Yoplait Light margarita-flavored yogurt contains 5g of protein per 6 oz-serving with 90 calories. Yoplait Light features the Weight Watchers shield showing a PointsPlus® value of 2 per serving.
A toast to the return of green grass, fresh flowers, and fun new flavors for spring! For a limited time only–get them before they're gone! New Yoplait spring seasonal flavors are available nationally in 6 oz. single-serve cup containers, 4-oz. four-packs and 6 oz. eight-count fridge packs containing four Yoplait Light margarita and four harvest peach; and four Yoplait Original peach sweet tea and four strawberry. The suggested retail price is $.75 per 6 oz. single serve, $2.79 per 4-oz. four-pack and $5.75 per 6 oz. eight-count fridge packs. For more information and tasty recipes from Yoplait visit www.yoplait.com.