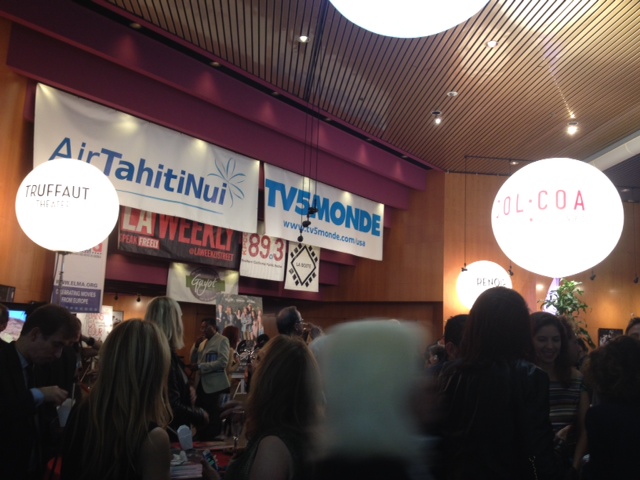 The Franco-American Cultural Fund, a partnership of the DGA, MPA, WGAW and France's Society of Authors, Composers and Publishers of Music (SACEM), announced that Turning Tide, directed by Christophe Offenstein, written by Jean Cottin, Pierre Marcel, Christophe Offenstein, Frédéric Petitjean, and starring François Cluzet, won the COLCOA Audience Award.
Vandal was awarded the COLCOA LAFCA Critics Award by the Los Angeles Film Critics Association jury at the 18th annual City of Lights, City of Angels French film festival.  The film was co-written by Katell Quillévéré, Gilles Taurand, Nicolas Journet, and Hélier Cisterne, who also directed the film. The Critics Special Prize went to One of a Kind, written and directed by François Dupeyron.
The Audience Special Prize went to Chinese Puzzle, written and directed by Cédric Klapisch, starring Romain Duris, Audrey Tautou, and Cécile de France. Chinese Puzzle also walked away with the COLCOA Coming Soon Award, a prize given in association with KPCC 89.3, to a film presented with an attached U.S. distributor. The film will be released in the U.S. on May 16 th by The Cohen Media Group.
The COLCOA First Feature Award went to Me, Myself and Mom, the ten César-nominated and five César-awarded comedy, including Best Film, Best Adapted Screenplay and Best Actor, written and directed by Guillaume Gallienne.
Special Mention was given by the Audience to For A Woman, the drama written and directed by Diane Kurys, to be released in the U.S. on May 2 by Film Movement; and Special Mention was givenby the Critics to The Rooftops, written and directed by Merzak Allouache.
The COLCOA Documentary Prize went to Flore, written and directed by Jean-Albert Lièvre. Distrib Films will release the film in the U.S.
"The LAFCA jury's job was made especially pleasurable this year by a French cinema that revealed a commitment to all levels of filmmaking, from the esoteric to the popular. In particular, our winners exemplified an interest in overlooked regions and social margins, in the condition of characters' material lives and their opportunities for transcendence, and in cinema's flexible, stylistic responses to life's raw material," 
said Henry Sheehan of KPCC's Film Week, one of the Critics jury members.
The Run Away, written and directed by Jean-Bernard Marlin,won the COLCOA Jury Short Film Award.  The Short Film Jury Special Prize went to Women's Letters, co-written by Augusto Zanovello and Jean-Charles Sinck, and directed by Zanovello. 5 Mètres 80, written and directed by Nicolas Devaux and 37°4S, from writer/director
Adiano Valerio received Short Film Jury Special Mentions.   
The Audition, co-written by Pierre Niney and Igor Gotesman, and directed by Nineywon the COLCOA 2014 Audience Short Film Award.
The week-long festival set a record attendance of nearly 20,000 at the Directors Guild of America, site of the festivities.  Thirty-four features and documentaries and twenty shorts competed for the 2014 COLCOA Awards.
2014 COLCOA AWARDS:
– Audience Award: TURNING TIDE
– Audience Special Prize: CHINESE PUZZLE
– Audience Special Mention: FOR A WOMAN
– Critics Award: VANDAL
– Critics Special Prize: ONE OF A KIND
– Critics Special Mention THE ROOFTOPS
– First Feature Award: ME, MYSELF AND MOM
– Best Documentary Award: FLORE
– Coming Soon Award: CHINESE PUZZLE
– Audience Short Award: THE AUDITION
– COLCOA Short Film Award: THE RUN AWAY
– COLCOA Short Film Special Prize: WOMEN'S LETTERS
– COLCOA Short Film Special Mentions: 5 METRES 80 & 37°4S