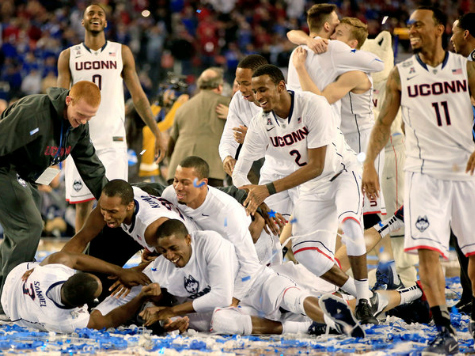 Shortly after Conneticut secured its fourth national championship on Monday night, indefatigable star guard Shabazz Napier could be found standing on the platform's edge and shouting in delight at the faithful who traveled here for the end of an improbable journey. Eventually, the senior star climbed a dais and took a microphone and asked for everyone's ears, and he then delivered his message to a cavernous arena and a worldwide audience. "This is what happens when you ban us," Napier shouted, holding forth by not holding back on graduation rate penalties that left the program without a postseason to play in a year ago. If it was brash, it was nevertheless from the heart, which made it only appropriate for this month and this run and this night. "I just wanted to grab everyone's attention and introduce the hungry Huskies, because it's been two years," Napier said. "We worked so hard for this. We didn't want to lose it. So here we go, celebrating." In a football palace, the Huskies claimed the spot atop the college basketball world for 2014 by grinding down Kentucky with a 60-54 win.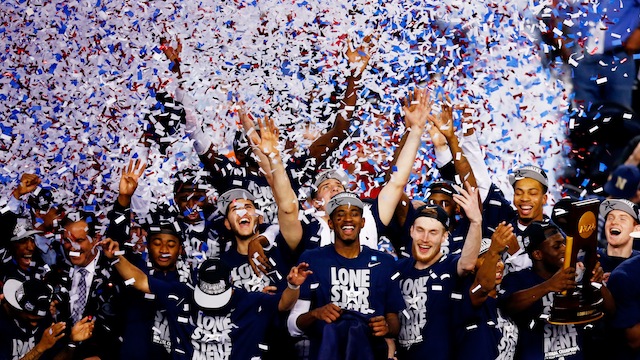 UConn completed its quick and triumphant turnaround from national champions in 2011 to a team that was banned from the NCAA's last season to champs again this year. The Huskies, which finished the regular season with a 33-point loss a month ago, ended the year dancing and twirling title T-shirts above their heads. A record crowd of 79,238 saw an improbable UConn squad led by a pair of willful guards and a second-year coach who made the program his own this April become the first No. 7 seed ever to win the NCAA tournament. "It started 18 months ago when they kept believing and they stayed loyal to the program," head coach Kevin Ollie said. "It's a wonderful feeling to hold that trophy up and do it the right way. I think we did it the right way for 18 months, and we did it the right way in this NCAA tournament." They did it behind Napier's game-high 22 points, which cemented his Most Outstanding Player award. They did it behind Ryan Boatright, who added 14 points and played ravenous defense that unsettled another backcourt despite suffering an ankle sprain with nine minutes to play. And they did it by doing to Kentucky what no team in this tournament had: by pulling away late while the Wildcats wilted.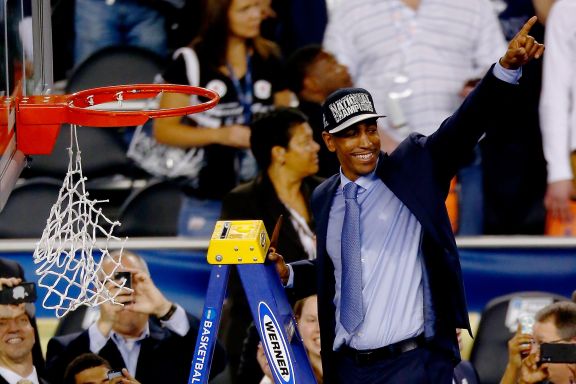 Kentucky, the nation's preseason No. 1 team, had overcome an unexpectedly poor regular season and made it to this game with four straight victories over higher-seeded opponents. The last three were sealed by last-minute shots by freshman shooting guard Aaron Harrison, but this time there was no chance for another thrilling finish. The Wildcats were within one point with eight minutes to go but scored just seven more the rest of the way, recording just two field goals in the final six and a half minutes and never getting closer than four points in the final minute. After the Huskies extended their lead to six points with 25 seconds left, Aaron and his twin brother Andrew each missed three-pointers for Kentucky. Boatright ripped down the final rebound and literally ran off with a title.