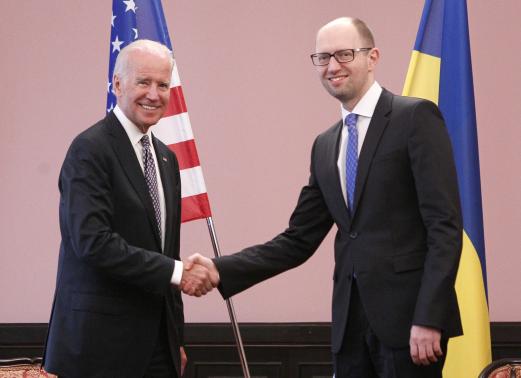 Photo Courtesy of Reuters
U.S. Vice President Joe Biden met with Ukraine's Prime Minister Arseniy Yatsenyuk on Tuesday. Biden promised support for Ukraine and stated that the United States will not recognize Russia's annexation of Crimea.
"Ukraine is and must remain one country," The VP said in Kiev on Tuesday at a news conference.
"No nation has the right to simply grab land from another nation," he continued. "We will never recognize Russia's illegal occupation of Crimea."
Continuing support, the White House announced a $50 million package of assistance to help Ukraine pursue political and economic reform and strengthen its partnership with the United States.
Ukrainian and U.S. officials believe that Russian special forces are in the region and are behind efforts to seize government buildings. Biden requested that Russia "stop supporting men hiding behind masks and unmarked uniforms sowing unrest in eastern Ukraine." 
"You will not walk this road alone. We will walk it with you," Biden told Yatsenyuk.