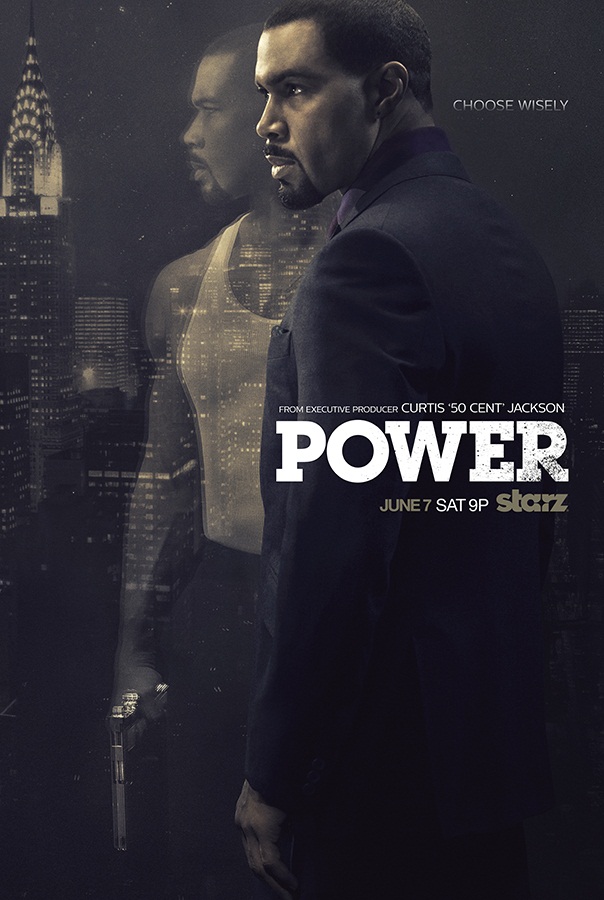 Starz announced today that its highly anticipated new original series "Power" will debut on Saturday, June 7th at 9pm ET/PT with the release of Executive Producer Curtis '50 Cent' Jackson's new music video for "Big Rich Town." The single, which was created specifically for the show and will serve as the main title theme, is performed by 50 Cent and features never before seen footage from the New York based crime drama from Emmy® nominated writer Courtney Kemp Agboh. Starz also released the official key art for the series.
Watch "Big Rich Town" Music Video: https://www.facebook.com/photo.php?v=10152950369658797
From acclaimed director Eif Rivera, known for his work with 50 Cent and G-Unit, Lil Wayne, Nikki Minaj, Kendrick Lamar, and Fat Joe, the song the vocals of multi-Grammy ® nominee R&B singer Joe.
"Power" tells the story of a visionary crime drama set in two different worlds, the glamorous New York club scene and the brutal drug trade.
James "Ghost" St. Patrick has it all: a beautiful wife, a gorgeous Manhattan penthouse, and the hottest, up-and-coming new nightclub in New York. His club, Truth, caters to the elite: the famous and infamous boldface names that run the city that never sleeps. As its success grows, so do Ghost's plans to build an empire. However, Truth hides an ugly reality. It's a front for Ghost's criminal underworld; a lucrative drug network, serving only the wealthy and powerful.
As Ghost is seduced by the prospect of a legitimate life, everything precious to him becomes unknowingly threatened. Once you're in, can you ever get out?
The cast is led by Omari Hardwick (Sparkle, For Colored Girls, Kick Ass, "Being Mary Jane") who is joined by Lela Loren (Snitch, "Gang Related"), Naturi Naughton (Fame, "The Client List," "Mad Men") and Joseph Sikora (Jack Reacher, Safe, "Boardwalk Empire"). Hardwick stars as main character 'James "Ghost" St. Patrick'; Loren plays 'Angela Valdes', an old flame of James's who unexpectedly reenters his life; Naughton will play 'Tasha St. Patrick', wife, confidant and willing accomplice to James and Sikora plays 'Tommy Egan', childhood best friend and business partner to "Ghost."
"Power" will also feature Andy Bean as 'Greg', Sinqua Walls as 'Shawn', Adam Huss as 'Kantos', Greg Serano as 'Medina', Lucy Walters as 'Holly', acclaimed actor Victor Garber as 'Simon Stern,' Sonya Walger as 'Madeline Stern,' Kathrine Narducci as 'Lavaro', Luis Antonio Ramos as 'Ruiz', La La Anthony as 'LaKeisha', Diane Neal as 'Cynthia', J.R. Ramirez as 'Julio', Debbi Morgan as 'Estelle', Shane Johnson as 'Saxe', Enrique Murciano as 'Lobos', Vinicius Machado as 'Nomar', Dominic Colon as 'Anibal', J.P. Serret as 'Sabueso' and Audrey Esparza as 'Liliana'.
The series is created by Courtney Kemp Agboh (Emmy nominated for "The Good Wife"), who will serve as executive producer and showrunner. Mark Canton (300, Immortals, 300: Rise of an Empire), Randall Emmett (End of Watch, 2 Guns, Lone Survivor) and David Knoller ("Big Love," "Carnivàle") also serve as executive producers. The series is being produced in association with CBS Television Studios.
"Power" premieres on Saturday, June 7th at 9pmET/PT on Starz with an eight hour-long episode first season.