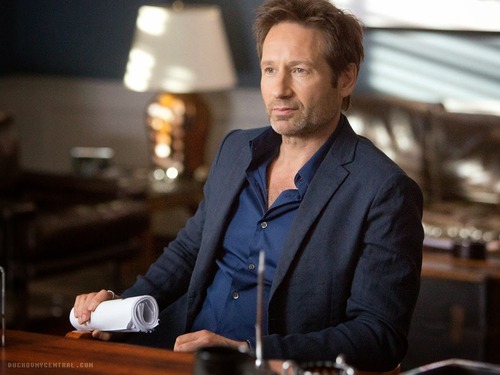 Tomorrow is Super Sunday on SHOWTIME with the premiere of NURSE JACKIE at 9 p.m., CALIFORNICATION at 9:30 p.m., and YEARS OF LIVING DANGEROUSLY at 10 p.m. ET/PT.
 
On NURSE JACKIE (9 p.m.), Jackie (Edie Falco) is back to using drugs again, but she's doing it differently this time.  She's maintaining a clean and sober cover going to NA meetings, and never stealing pills from the hospital.  Meanwhile, her daughter Grace (Ruby Jerins), is still experimenting with drugs, unbeknownst to her parents.  At All Saints, Dr. Carrie Roman's (Betty Gilpin) probation is over, but Jackie has been assigned to shadow her; and Zoey (Merritt Wever) and Dr. Prentiss (Morris Chestnut) learn that their secret is out.  Later at a 12-step meeting, Jackie butts heads with an outspoken Southern woman named Antoinette (Julie White) and when a cocaine addict has a seizure at the meeting, Jackie rushes him to the hospital.  As Dr. Roman tries to revive him, Jackie, high on pills, makes a mistake that will knock her out cold.
 
From his debut in August 2007, Hank Moody (series star and executive producer David Duchovny) quickly became everyone's favorite unflinchingly honest, self-destructive lothario who bowed at the altar of sex, drugs and rock 'n roll. The final season of CALIFORNICATION (9:30 p.m.) will find him joining the writer's room as his never-released film "Santa Monica Cop" now becomes a television series of the same name. He's riled frequently by his boss, the show's old-school executive producer Rick Rath (guest star Michael Imperioli), and his fellow writing team members, including Goldie (guest star Mary Lynn Rajskub) and Alonzo (co-star Alonzo Bodden). But he's thrown by the reemergence of old friend Julia (guest star Heather Graham), whose arrival causes chaos in Hank's already hectic life and with his on-off relationship with Karen (Natascha McElhone) and also with his daughter Becca (Madeleine Martin). Meanwhile, Charlie (Evan Handler) and Marcy (Pamela Adlon) grapple with the aftermath of their reunion and an enticing offer from her ex-husband, Stu Beggs (guest star Stephen Tobolowsky). Rob Lowe, Brandon T. Jackson, Oliver Cooper and Mercedes Masohn will also guest star.  
 
YEARS OF LIVING DANGEROUSLY (10 p.m.) is a groundbreaking SHOWTIME documentary event series exploring the human impact of climate change. This innovative docu-series is a collaboration between some of Hollywood's biggest stars and leading national news journalists, who will provide reports of people affected by and seeking solutions to climate change. Correspondents include Jessica Alba, Mark Bittman, Don Cheadle, Matt Damon, America Ferrara, Harrison Ford, Thomas Friedman, Michael C. Hall, Chris Hayes, Olivia Munn, M. Sanjayan, Arnold Schwarzenegger, Ian Somerhalder and Lesley Stahl. Each correspondent delves into a different impact of climate change – from the damage wrought by Superstorm Sandy in the Tri-state area to political upheaval caused by droughts in the Middle East to the dangerous level of carbon emissions resulting from deforestation. The project will portray the current and intensifying effects of climate change on everyday Americans and demonstrate how they can take action and be part of the solution.  YEARS OF LIVING DANGEROUSLY will combine the blockbuster storytelling styles of Hollywood's top movie makers, including James Cameron and Jerry Weintraub, with 60 Minutes® Joel Bach and David Gelber's reporting expertise to reveal critical stories of heartbreak, hope and heroism as the race to save the planet continues.