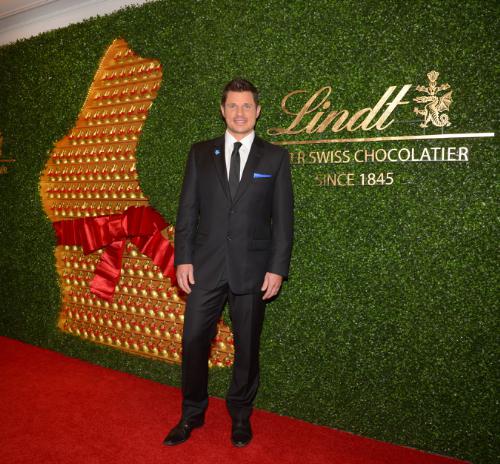 Nick Lachey recently joined premium chocolatier, Lindt USA, to launch the fifth Lindt GOLD BUNNY Celebrity Auction and help raise awareness for autism, a cause close to his family.  Lachey, who is sharing his personal connection to autism, joins the exclusive line-up of nearly 100 celebrities participating in this year's auction by donating autographs.  One hundred percent of proceeds from the celebrity-signed Lindt GOLD BUNNY figures will benefit the world's leading autism research and advocacy organization, Autism Speaks. This year, Lindt will make a matching donation.  Now through April 14, fans can bid on celebrity-signed porcelain Lindt GOLD BUNNY figures – from Kelly Clarkson to Sarah Jessica Parker, Tom Brady and Seth Meyers– and give back this Easter. 
"It's an honor to help launch this year's Lindt GOLD BUNNY Celebrity Auction and support a cause very close to my family," said Lachey.  "My younger brother, Zac, was diagnosed with autism as a child, and we're continuously inspired by his perseverance and strength.  Autism affects so many families, and Lindt is offering simple ways to get involved this Easter and help give back."
Ninety-three influencers in the entertainment, food, music, lifestyle and sports industries have lent their signatures to the cause.  Among the autographed Lindt GOLD BUNNY figures are signatures from: Blake Shelton, Brad Paisley, Celine Dion, Donald Trump, Eva Longoria and more…
"We're thrilled to work with Nick Lachey to launch this year's Lindt GOLD BUNNY Celebrity Auction in support of Autism Speaks," said Thomas Linemayr, president and CEO of Lindt USA.  "We're touched by Nick's personal connection to autism and inspired by his involvement.  Through a variety of activities both in-store and online this Easter season, Lindt is looking forward to raising much needed funds and awareness for the autism cause."  
In addition to the Celebrity Auction, Lindt is again donating 10 cents from each Lindt GOLD BUNNY, the only bunny that gives back, purchased in the U.S., through April 20, 2014.  Consumers can also join Lindt on its Facebook page, through April 15, 2014, to play the "Build a Better Easter Basket with Lindt GOLD BUNNY" game to trigger varying levels of donations to Autism Speaks and win additional prizes. 
Since 2009, Lindt has helped raise more than half a million dollars for Autism Speaks.  Through multiple in-store and online activations this Easter season, Lindt anticipates the total donation to Autism Speaks to exceed $700,000.
For more information about the Lindt GOLD BUNNY Celebrity Auction and Easter program, visit LindtGOLDBUNNYAuction.com.  For other news from Lindt, visit www.LindtUSA.com/goldbunny, "like" the company's Facebook page or follow Lindt on Twitter.  For more information about Autism Speaks, visit www.AutismSpeaks.org.