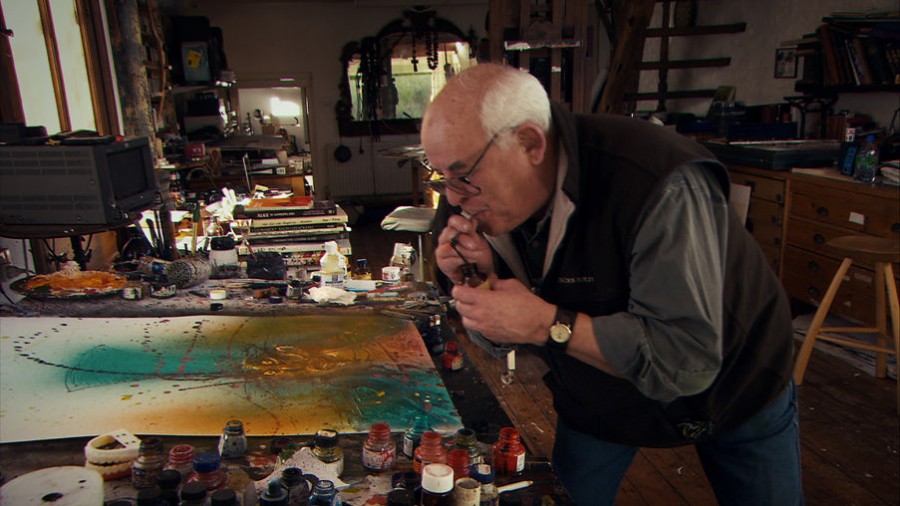 You may not be familiar with the name Ralph Steadman, but you've likely seen some of his wildly imaginative, thoughtful and often demented drawings and paintings. If you're a fan of Hunter S. Thompson, you are almost certainly a fan of Steadman's work, whether you realize it or not. He provided illustrations for Thompson's novel Fear and Loathing in Las Vegas, as well as his articles on the Rumble in the Jungle, the Kentucky Derby, etc. Steadman's art is so synonymous with Thompson that it can be tough to separate one from the other. Creating an individual identity, while still maintaining the artist's connection to Thompson, is one of the tasks that director Charlie Paul and producer Lucy Paul, set out to accomplish with their documentary For No Good Reason. The film not only achieves this, but also manages to be very entertaining, inspiring and provides great insight into the artistic mind.
The filmmakers find the perfect entry into Steadman's world, with mega-star Johnny Depp, who has starred in two film adaptations of Thompson's work (Fear and Loathing in Las Vegas and The Rum Diary). Depp is not only a friend of Steadman, but as is evidenced by the way he watches in awe as Steadman creates a remarkable work of art from a blank canvas, a true fan.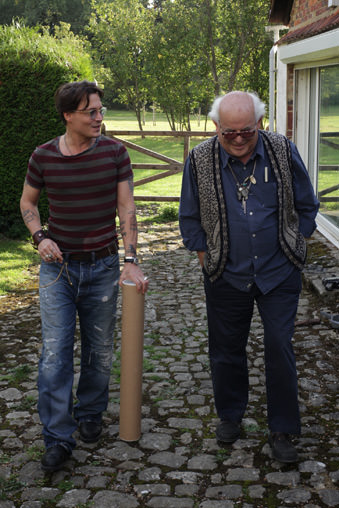 As Lucy Paul puts it, Depp "holds the Gonzo torch," referring to the outrageous journalistic and artistic movement, for which Thompson and Steadman were the forebears. Depp's visit to Steadman's home in England provides the structure to an intimate look into an incredible artistic journey and mind. Through their conversations we are taken from Steadman's early years as an illustrator in England, through many riotous stories of his time with Thompson, to his more politically active era and his numerous other creative endeavors. All the while, Steadman provides fascinating insight into his process.
The project started 15 years ago, when Charlie Paul visited Steadman, whom he calls "one of the greatest artistic influences in my life." Paul and Steadman spent the day together and at the end, Steadman gave Paul a box of recordings he had made over the years. What Paul didn't realize until going through the videos, was the absolute treasure trove he had just acquired. The videos included never-before-seen video of Steadman and Thompson. Paul knew he had to make a documentary and started to assemble the footage. After years of editing, he had a rough cut, which was then passed along to Depp. Depp agreed to be apart of the documentary and when all the schedules worked out, went to visit Steadman. Depp and Steadman's interaction is lively and friendly. Depp, who is so highly regarded in his own right, here is seemingly humbled in the presence of a genius in his craft. Steadman's jovial personality seems at odds with the often viciously satirical and even macabre art he produces. The dichotomy further pushes the film's thesis on the difference between art and artist. Steadman is defined by his art, but his art does not define him.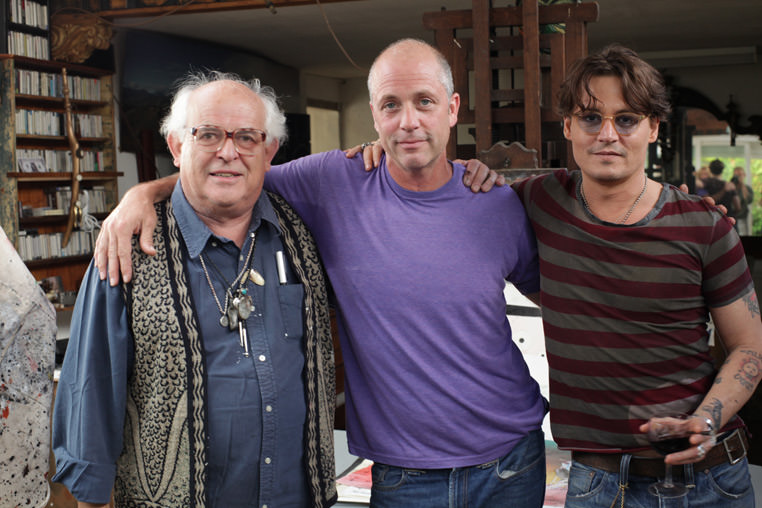 Director Paul manages to put a unique stamp on the tone of the film, while keeping the artist and his art at center stage. This is done by touches of the surreal and cleverly animated depictions of Steadman's work. Much of the documentary is shot in a crisp, cinematic style, but Paul also employs various formats, like 16-millimeter film, Super 8 and Steadman's own archival footage, which emulates the artist's use of multimedia, without being a distraction. He also moves the film swiftly along with music from Slash and All American Rejects, which shouldn't be shocking considering Paul has a background in music videos and commercials (this is his first feature).
Very little of the films 89 minutes is devoted to Steadman's biographical information. For No Good Reason endeavors to reveal Steadman's story through his art not "investigate" him. Paul said that, "an artist makes his work and that's how he represents himself." This is as much a valid statement for the documentarian as it is for his subject and with For No Good Reason, Charlie Paul has represented himself as a true artist.
By Adrian Vina
http://www.sonyclassics.com/fornogoodreason/

Rated R for Language, some drug content and brief sexual images