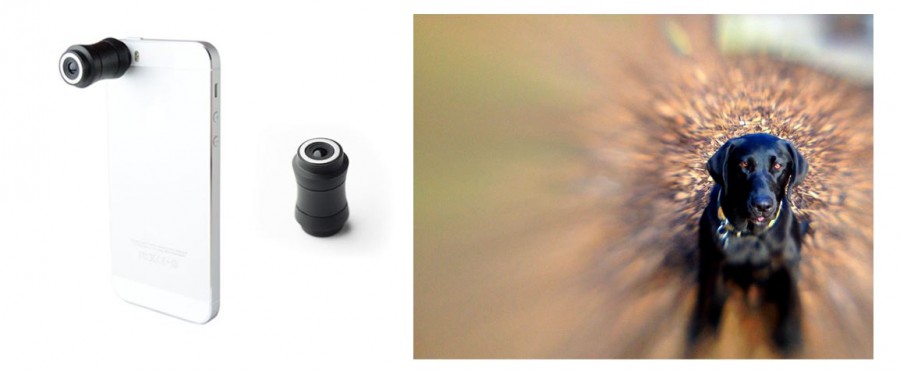 Lensbaby, makers of creative effects camera lenses for DSLRs, mirrorless and motion picture cameras, announces the release of the LM-10 Sweet Spot Lens for iPhone, its first lens designed specifically for mobile devices.
iPhone shooters will be able to create Lensbaby's signature depth-of-field look, the "sweet spot" of focus, surrounded by gradually increasing blur. This magnetically-attaching creative effects accessory lens will be sold exclusively on Kickstarter.com starting today for a 30-day funding campaign.
This patent pending lens will be compatible with iPhone 4s, 5, 5s, and 5c and lets photographers focus on a single spot of sharp focus in their image surrounded by gradually increasing blur.
"Our customers have long been requesting a Lensbaby for their mobile devices," said Craig Strong, Lensbaby Co-founder & Chief Creative Officer. "It is time to give them what they want – a way for them to push the boundaries of their creativity and produce depth-of-field effects on their iPhones. A lens in the mobile phone market is a bit of a departure for us, hence a Kickstarter campaign. This is the first of many mobile products we have in development, and we wanted confirmation from our customers that they really do want an optical way to create a sweet spot of focus in their iphoneography before we start manufacturing in large quantities and invest more R&D time in the line."
The lens has magnets on each end, so it can be attached and removed from your phone with ease. The bonus of having a magnet on both sides of the lens, is that shooters will be able to use other magnetic mobile phone accessory lenses (wide angle, macro, telephoto, polarizing filters, etc.) on their Sweet Spot Lens to alter their focal length.
They will offer free iPhone app, available in the Apple App Store, along with the lens to ensure the best possible shooting experience. Due to the optical design of the lens, the image will be upside down when shot with most other camera apps. The Lensbaby app automatically flips the image right-side up, and lets the photographer move the sweet spot of focus around the image to match focus with the perfect composition.
The Lensbaby Sweet Spot Lens for iPhone will exclusively be available on Kickstarter.com until May 2, 2014. The funding goal is $20,000. The pledge levels for the campaign are as follows:
$1 – Thank you on Lensbaby's site
$5 – The coveted See In A New Way™ Lensbaby sticker
$40 – Earliest Bird special for one lens (limit 50)
$45 – Early Bird special for one lens (limit 75)
$50 – Kickstarter special price for one lens
$125 – Kickstarter special price for one lens + one Spark™ DSLR lens
For more information, visit www.lensbaby.com or www.kickstarter.com