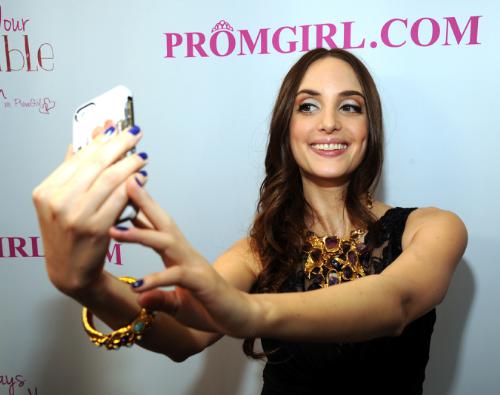 PromGirl.com has launched #PromGirlUp, a "selfie"-inspired social media campaign kicked off by singer/songwriter Alexa Ray Joel to benefit the United Nation Foundation's Girl Up program, which mobilizes American girls to raise awareness and funds for UN programs that provide girls around the world with life-changing opportunities like the chance to go to school, see a doctor, and stay safe from violence. 
Alexa joined some of Girl Up's members from New York City area high schools at the Gramercy Park Hotel on Wednesday to launch the month-long campaign and raise funds for the organization, which gives American girls the opportunity to become global leaders and help some of the world's hardest-to-reach adolescent girls.
"It is so important to have equal opportunity for all girls regardless of where they are from," Alexa said. "I love that this campaign is empowering teenage girls across the world and reminding them to always wear their invisible crown every day."
After helping the girls chose dresses from PromGirl.com and offering styling tips, Alexa posted the first selfie using the #PromGirlUp hashtag on her Instagram @alexarayjoel to kick off the campaign. From now through May 16th, 2014, PromGirl.com is donating $1 to Girl Up for each selfie uploaded to Instagram, up to $10,000. Each post will also be entered to win a summer wardrobe from PromGirl.com.
"We are thrilled to align with Girl Up to kick off our partnership and launch #PromGirlUp," said David Wilkenfeld, CEO and Founder of PromGirl.com. "We hope that together we can help make a difference for girls around the world."