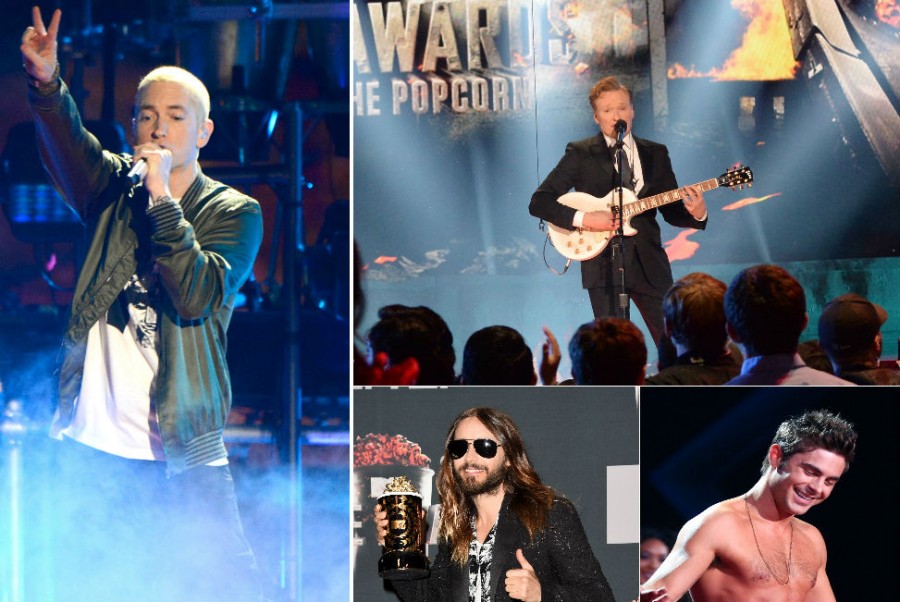 How many celebrity cameos can MTV fit into one opening sketch sequence with Conan O'Brien? The answer is 50. The 2014 MTV Movie Awards intro featured the host running into a series of celebrities, from Katy Perry to Martin Scorsese, Paul Rudd, the grumpy cat, Taylor Swift, Jack Nicholson, Ashton Kutcher, the "Big Bang Theory" cast, etc.
This particular award show has turned into a pop culture reference madhouse. It's all about relating to the young teen/young adult generation with salutes to popular social media phenoms such as Vine, and hashtagging as many phrases, and even award names. The attempt to appear 'cool' throughout the evening turned slightly obnoxious and 'TMI' (too much information) most of the time. For instance, O'Brien's "dick pic" projected extra-large on screen. But of course, most of the night is all in good fun and never meant to be taken seriously. Except for when Zac Efron won Best Shirtless Performance. We must remember that MTV is now the channel that brings us shows such as, "16 and Pregnant" and "Teen Mom."
The nicest moment of the evening was a touching tribute to Paul Walker, presented by his "Fast and Furious" co-star, Jordana Brewster. They showed a movie montage of his most memorable roles, including a short clip of his 2002 Golden Popcorn win for Best On-Screen Team.
As for musical entertainment, Eminem and Rihanna re-teamed for an emotionally charged first live performance of their #1 smash single "The Monster." Backed by a full piece band and a nightmare-come-to-life backdrop.
Fresh from the stages of Coachella, Ellie Goulding and Zedd brought the Divergent soundtrack to life. Goulding delivered a stripped down version of her new hit single, "Beating Heart," featuring Zedd on piano.  The DJ then took the turntables for a high-octane performance of "Find You" alongside Matthew Koma and Miriam Bryant.
Eminem and Rihanna re-teamed for an emotionally charged first live performance of their #1 smash single "The Monster." Backed by a full piece band and a nightmare-come-to-life backdrop – See more at: http://thepub.viacom.com/sites/mtvpress/Pages/CONAN-OBRIEN-HOSTS-AN-EPIC-2014-MTV-MOVIE-AWARDS.aspx#sthash.FgJ6t6Qo.dpuf
And the golden popcorn went to…
Movie of the year
The Hunger Games: Catching Fire
Best female performance
Jennifer Lawrence, The Hunger Games: Catching Fire
Best male performance
Josh Hutcherson, The Hunger Games: Catching Fire
Breakthrough performance
Will Poulter, We're the Millers
Best kiss
Emma Roberts, Jennifer Aniston and Will Poulter, We're the Millers
Best fight
Orlando Bloom and Evangeline Lilly vs. Orcs, The Hobbit: The Desolation of Smaug
Best comedic performance
Jonah Hill, The Wolf of Wall Street
Best scared-as-s**t performance
Brad Pitt, World War Z
Best on-screen duo
Vin Diesel and Paul Walker, Fast & Furious 6
Best shirtless performance
Zac Efron, That Awkward Moment
#WTF moment
The Lude Scene, The Wolf of Wall Street
Best villain
Mila Kunis, Oz The Great and Powerful
Best on-screen transformation
Jared Leto, Dallas Buyers Club
Best musical moment
Backstreet Boys, Jay Baruchel, Seth Rogen and Craig Robinson perform in Heaven, This is the End
Best cameo performance
Rihanna, This is the End
Best hero
Henry Cavill as Clark Kent, Man of Steel
Trailblazer award: Channing Tatum
Generation award: Mark Wahlberg