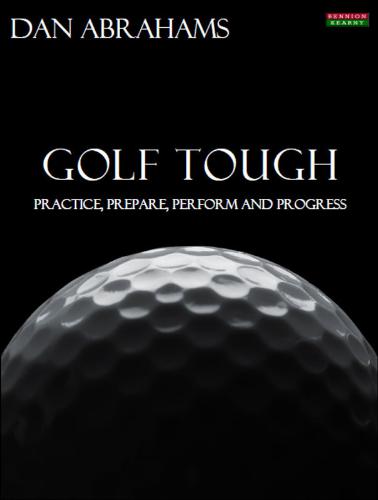 For those going on the green this weekend, UK Publisher Bennion Kearny has announced the publication of Golf Tough – a state-of-the-art and inventive new approach to golfing performance by world-renowned author and Sport Psychologist, Dan Abrahams.Dan Abrahams is Lead Psychologist for England Golf, as well as a former touring professional golfer, and PGA coach. In Golf Tough, his third book with Bennion Kearny, he offers a powerful blueprint for golf improvement and a detailed plan for consistent high performance no matter what an individual's standard of play.
Golf Tough introduces the reader to a different approach to golf. The book demonstrates how to practice to build skill, technique and confidence so that every player's visit to the range will become more productive and purposeful than ever, and practice will become more deliberate. Abrahams also reveals the processes that golfing champions employ to prepare to compete under the most intense pressure, as well as how all golfers can learn to stand on the first tee brimming with self-belief.
The book also includes contributions from some of the other top authorities in the game:
– Chris Sells – Golf Statistician; official golf analyst for the English Golf Union
– Rod Gutry – European tour caddy, and course management instructor
– Hugh Marr – one of the UK's leading coaches of elite players
– Phil Kenyon – PGA professional and 'specialist putting coach' who has worked with many of the world's leading players.
Published: 11 March 2014
ISBN: 978-1909125506
Paperback 180 pages
£24.99 print, $9.99 eBook
http://www.bennionkearny.com/Golf-Tough-Psychology-Training-Improvement-Practice-Dan-Abrahams-Book-ebook.htm