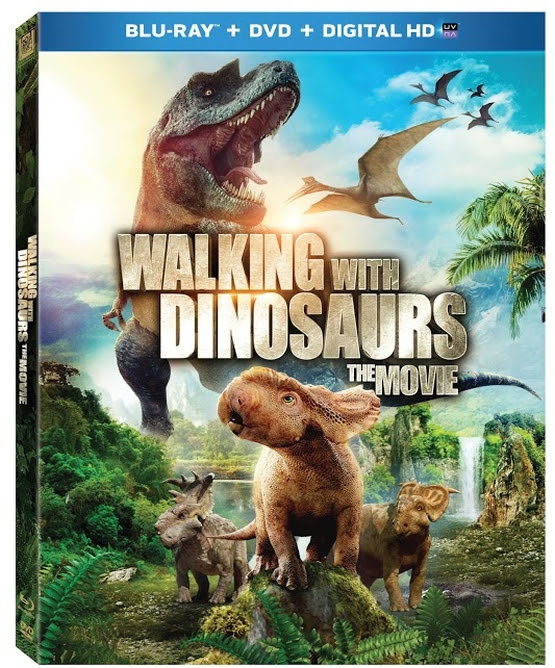 If you missed it in the theaters last December, this is your chance to bring home "Walking with Dinosaurs," an awe-inspiring adventure and a great history lesson for all in the family dating back 70 million years ago, just in time for Spring Break.
This wonderful heartwarming movie takes you on the thrilling prehistoric journey when dinosaurs ruled the Earth. The smallest of the pack — a playful Pachyrhinosaurus named Patchi — embarks on the biggest adventure of his life. As he tries to find his place in his own herd, Patchi will discover the courage he needs to become the leader… and a hero for the ages.
Along the way your curiosity of these prehistoric creatures will be satisfied with "The Ultimate Dino Guide" where hatchlings of all ages will be immersed in their own personal journey to uncover the greatest secrets about their favorite dinos. You will learn a whole new language with "Match the Call," and hear how Dinos communicated with their friends and foes. The "Interactive Map" will take you on an interactive tour of where dinos roamed the earth, uncovering the same places people live today. And if you ever wanted to become a "dino expert," you will as you watch the movie and follow along with the pop-up "Brainosaur Trivia Track."
The film is directed by Barry Cook (Mulan, Arthur Christmas) and Neil Nightingale (Meerkats: The Movie). It features the voices of Hollywood's biggest stars including: John Leguizamo (Ice Age, Rio 2), Justin Long (Alvin and the Chipmunks, Dodgeball) and Karl Urban (Star Trek).      
Filmed with the latest in cutting edge 3D technology, "Walking With Dinosaurs" taps the masterminds behind visual hits like Avatar, using Cameron Pace Fusion 3D technology to fully immerse viewers while recruiting animation house, Animal Logic (The Matrix Trilogy, 300), to bring digital dino magic to life by creating photorealistic dinosaurs based on paleontological research from world experts retained by the BBC. Twentieth Century Fox Home Entertainment and BBC Earth Films
The film's running time is approximately 87 minutes and is rated PG for creature action and peril, and mild, rude humor.
A must for everyone.