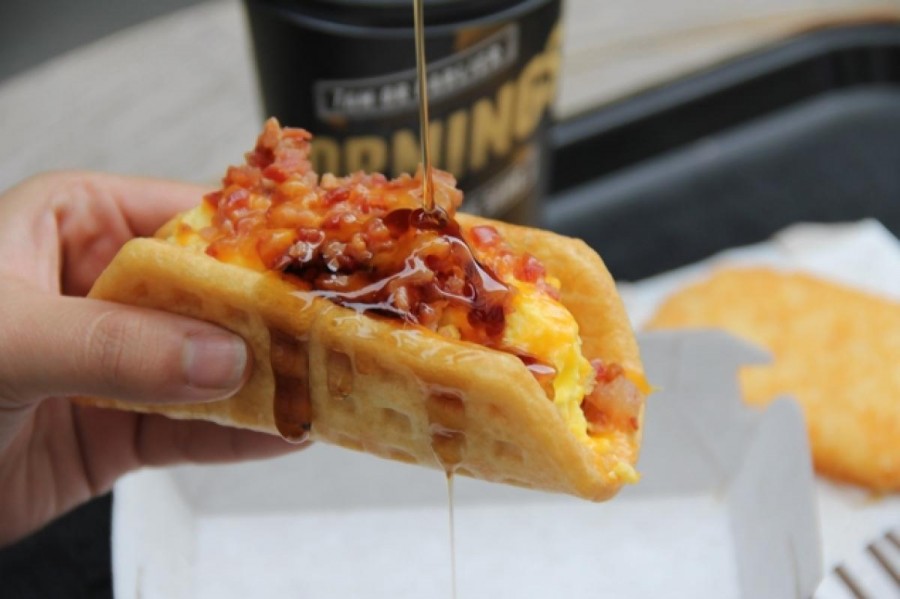 Photo Courtesy of Taco Bell
The wait is over. In a world full of "me too" breakfast sandwiches, today Taco Bell® is shaking up the Quick Service Restaurant industry yet again, this time with a new Breakfast Menu that will redefine innovation and value.
Beginning today, more than 5,500 Taco Bell restaurants nationwide will open at 7 a.m. or earlier for the biggest launch in the company's 52-year history. The new Taco Bell Breakfast menu includes 13 new menu items, featuring the highly anticipated Waffle Taco, the one-handed breakfast of the A.M. Crunchwrap®, and the already loved Cinnabon® Delights™.
After months of successful testing and customer feedback, the full Taco Bell Breakfast menu will include:
Bacon or Sausage A.M. Crunchwrap®: All the classic breakfast tastes like fluffy scrambled eggs, real cheddar cheese, your choice of flavorful bacon or a hearty sausage patty, and a golden crispy hash brown wrapped and grilled in a warm flour tortilla, so it's an all-in-one breakfast good to go. Suggested price: $2.49
Bacon or Sausage Waffle Taco: A warm waffle wrapped around flavorful bacon or a hearty sausage patty and fluffy scrambled eggs, served with a side of sweet syrup. Suggested price: $1.99

Bacon or Sausage Breakfast Burrito: Flavorful bacon or delicious sausage, fluffy scrambled eggs and lots of warm, melted cheddar cheese, all wrapped up in a warm flour tortilla. Suggested price: $1.69

Bacon or Sausage A.M. Grilled Taco: Fluffy scrambled eggs, melted cheddar cheese and flavorful sausage or bacon folded in a warm tortilla and grilled for portability. Suggested price: $1.00

Steak & Egg Burrito: Fluffy scrambled eggs, lots of warm, melted cheddar cheese and marinated premium thick cut steak, all wrapped up in a warm flour tortilla. Suggested price: $2.49

Sausage Flatbread Melt: Warm flatbread filled with a delicious sausage patty and real cheddar cheese, and then grilled to melted perfection. Suggested price: $1.00

Cinnabon® Delights™: Warm, golden bite-sized pastries filled with Cinnabon® frosting and covered with Makara® cinnamon sugar. Suggested price for 2: $1.00; 4: $1.49; 12-pack: $4.49

Hash Brown: A golden crispy potato hash brown. Suggested price: $1.00

Orange Juice: Tropicana 100% orange juice. Suggested price: $1.99
Premium Hot Coffee: Premium Rainforest Alliance certified™ hot coffee made with 100% Arabica beans. Suggested price: $1.49