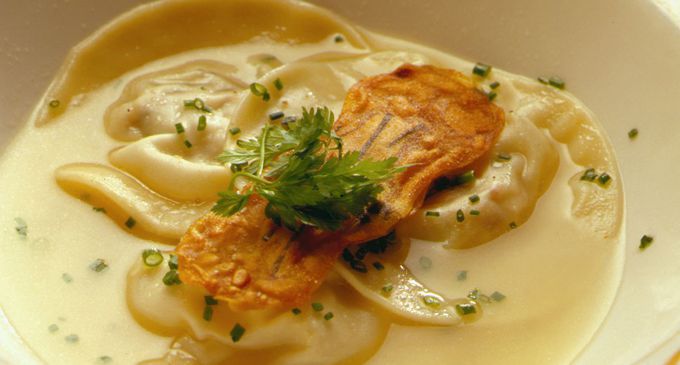 We're coming up on National Tater Day on March 31st. That means it's all things potato in the kitchen! http://www.idahopotato.com/ has some of the best recipes for anything and everything with potato. We picked up their Bacon & Idaho® Potato Ravioli (in Wonton Skins) Recipe:
Filling:
2 cups mashed Idaho® potatoes, without butter and cream

¼ pound sliced bacon, cooked until crisp and chopped

2 tablespoons bacon fat

1 clove garlic

1 shallot, minced

2 tablespoon unsalted butter

¼ cup heavy cream

2 tablespoons grated Parmesan

coarse salt and freshly ground pepper to taste
Pasta:
40 square wonton skins, purchased at an Oriental grocery (or use standard ravioli pasta)

1 egg, beaten
Garnish:
½ cup chicken stock, hot

3 tablespoons unsalted butter

1 tablespoon chives, finely chopped
What To Do:
Combine warm mashed potatoes with all of the filling ingredients and chill for 1 hour.

Lay 20 wonton skins on a flat surface and brush them all over with egg. Place a level tablespoon of filling in the center of each skin. Place a fresh skin on top, tamp down the edges with your fingers, sealing them, and press firmly but gently around the filling with the rim of a 2-1/2 inch glass, being careful not to press through the dough. Cut out the ravioli with a 3-inch cutter. Seal the edges well with your fingers, pressing out any air pockets. Cover with plastic wrap and refrigerate until serving time. This can be done 1 day in advance.

Bring a large pot of water to boil, add a tablespoon of salt and simmer the ravioli 6 or 7 minutes. Try to keep the water just at the boiling point; if it boils too rapidly, the ravioli may open and the filling leak out or become diluted with water. Drain the ravioli well and put them in a serving dish.

Boil the stock with the butter and pour over the ravioli. Sprinkle with chopped chives.