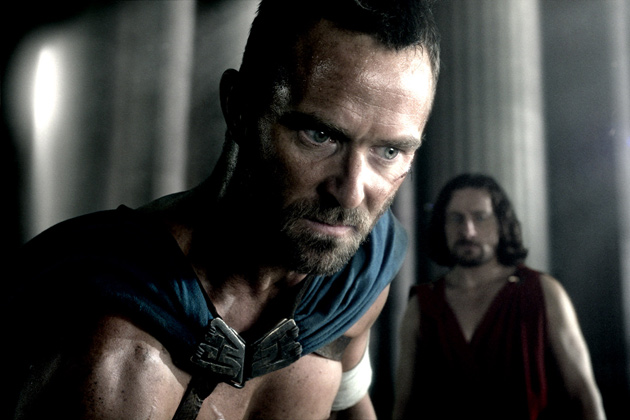 After the special effects bloodbath that was 2006's "300," where an army of Spartan soldiers were killed, one by one, I didn't even know there were enough bodies lying around to make a sequel. Luckily, the creative minds behind the original film, mainly Director Zack Snyder (Man of Steel) and graphic novel creator Frank Miller (Sin City), figured out a way to scrounge around the sword-and-sandal world of Gladiator era Greece for another story to tell. 
The aptly titled "300: Rise of an Empire" is an absolute blast of a film in 3D. Visually stunning and bloody as hell, director Noam Murro does more than just take the reins from his predecessor Zack Snyder. The Israeli filmmaker yanks them out of his hands, knocks the guy over, and asserts himself as the new king of the "300" franchise. And you know what? I couldn't be happier to call myself a humble servant.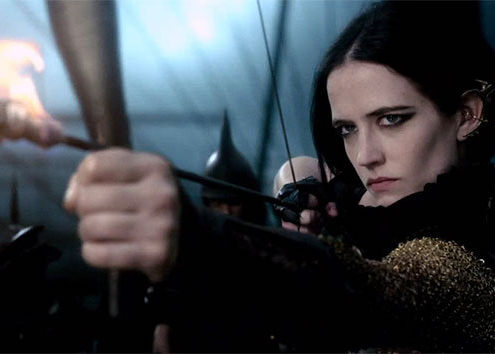 Starring Sullivan Stapleton, of Cinemax's "Strike Back," and Bond girl alum Eva Green, "300: Rise of an Empire" tells the story of Themistokles' (the aforementioned Stapleton) battle to protect his Athenian home, and all of Greece for that matter, against the ruthless Artemisia (Green) and the Persian demigod Xerxes (Rodrigo Santoro).  
Putting hard to pronounce Greek names aside, Lena Headey's (Game of Thrones) character Queen Gorgo provides a convenient introductory narration that informs the audience that all of the chiseled-bodied Greeks are good and everyone else is bad. The omniscient voice also lets the viewer know that Themistokles' story is occurring concurrently with Leonidus' (Gerard Butler) original tale from "300". Same place. Same time frame. Different viewpoint.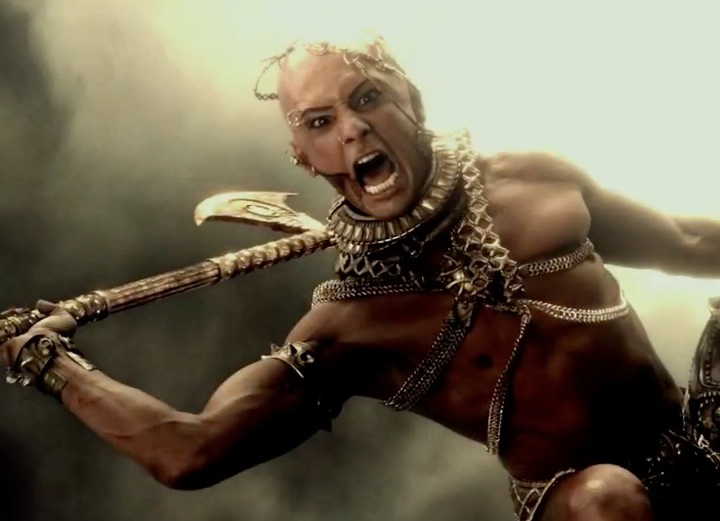 With this simple enough story canvas to work with, screenwriters Zach Snyder and Kurt Johnstad paint one incredibly bloody picture. Both Snyder and Johnstad easily slide back into the hyper-violent world of "300" — they also penned the first — and truly bring Frank Miller's intense graphic novels to life. Not settling for repetitive hack and slash combat, the two writers invent increasingly more complex and mesmerizing battle scenes that will surely bring joy to all who love unnecessary carnage. 
Director Noam Murro, whose one previous feature credit is for 2008's comedy dud "Smart People," proves to be the appropriate counterpart to all of Snyder and Johnstad's insanity. Working alongside cinematographer Simon Duggan (The Great Gatsby), the pair does not shy away from the slow-motion-heavy action that defined the first picture. They embrace the clearly over-the-top nature of this style of filmmaking, and somehow manage to take all of the absurdity a step further. Whether Themistokles is racing down a quickly sinking ship on a horse, spilling blood with each swipe of his sword or the villainous Artemisia is lopping a failed General's head off with a dull dagger, every glorious, gory second is perfectly captured in stunning slow motion.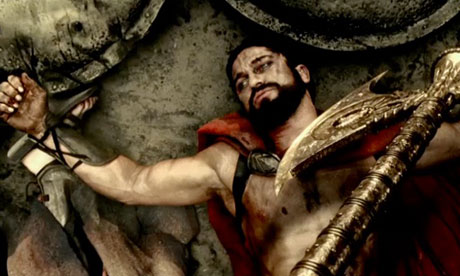 With so much high octane action, the subtleties of an actor's performance could easily get lost in the fray. Yet, there is no denying the sheer force of Eva Green. She is deadly in the role of Artemisia; quite literally, actually, and captures the borderline psychotic nature of a Greek warrior turned against her own country to perfection. The wardrobe department also deserves some much-deserved kudos as well. They do not skimp on jaw-dropping outfits for the tyrannical warrior to wear. 
As for Stapleton, he is definitely no Gerard Butler, but the Australian actor is more than adequate in filling his sandals. Having slightly less meat on his bones, and a much softer demeanor, Stapleton is never as edgy as the original hero, but that definitely doesn't make him a dud. In one of the wildest love making scenes captured on camera, one that is destined to win an MTV movie award further down the line, both Stapleton and Green show just how far they are willing to go in order to rise above their predecessor.
The most satisfying element of "300: Rise of an Empire," however, is that the film never tries to be more than it really is. Everyone involved knows that the inherent nature of a movie centrally focused on a gratuitous amount of CGI created blood is a ridiculous concept. Yet, this does not stop Stapleton, Green, and the picture's filmmakers from soaking it all in and occasionally poking fun at themselves while doing it. 
Fans of the first "300" will be more than happy with the latest version. And after more than eight years since the first batch of sword-toting Greeks stormed American theaters and pillaged more than $200,000,000 at the box office, I wouldn't be surprised if this latest edition comes away with an even bigger bounty.  
By David Morris

Rated R for strong sustained sequences of stylized bloody violence throughout, a sex scene, nudity and some language.