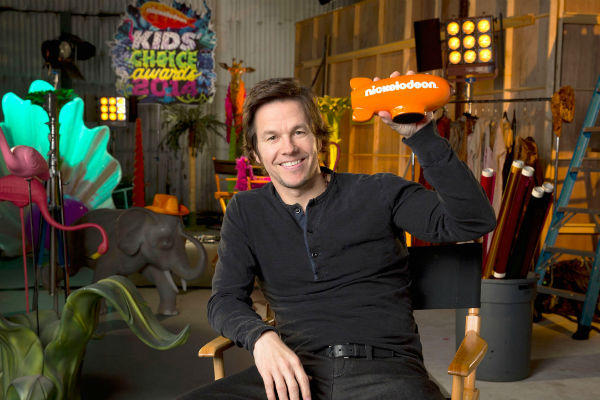 Nickelodeon and Mark Wahlberg will have kids (and big kids) on the edge of their seats as this year's Kids' Choice Awards winners are unveiled by an all-new slate of Orange Blimp-handing luminaries.
Andy Samberg (Brooklyn Nine-Nine), Will Arnett (Teenage Mutant Ninja Turtles), Michael Strahan (LIVE with Kelly and Michael), Jim Parsons (The Big Bang Theory), Kristen Bell (Veronica Mars), Debby Ryan (Jessie), Chris Evans (Captain America: The Winter Soldier) and WWE Divas Brie and Nikki Bella will join host Mark Wahlberg and previously announced performers Aloe Blacc and American Authors, in announcing this year's honorees at the 27th Annual Kids' Choice Awards, airing live this Saturday, March 29, at 8p.m. 
Returning presenters Lea Michele (Glee) and WWE Superstar John Cena, along with Tia Mowry-Hardrict (Instant Mom), Ross Lynch (Muppets Most Wanted) and Kaley Cuoco (The Big Bang Theory), will also make special appearances.  Kids can still cast their votes in 22 categories across all of Nickelodeon's digital outlets – Nick.com desktops and mobile devices, as well as the Nick app on iOS, Kindle, and Android – and users will be able to vote on Nickelodeon's Twitter feed using custom KCA hashtags.
 
Adding to its pinnacle night for kids, beginning at 7 p.m., Nickelodeon will premiere a brand-new episode of Sam & Cat followed by SpongeBob SquarePants with drop-ins from the Kids' Choice Awards Orange Carpet where Jeff Sutphen, Instant Mom's Sydney Park and See Dad Run's Ryan Newman will interview all the stars as they arrive.  In Sam & Cat "#SuperPsycho," Nora makes a return and targets Dice as a way to get revenge on Sam.  With nowhere else to turn, Sam and Cat are forced to ask for some unlikely help from Nevel.  Danielle Morrow, Reed Alexander and Noah Munck guest star in this supersized episode. 
 
An all-new SpongeBob SquarePants immediately follows where in "Kenny the Cat," SpongeBob will do anything to meet his newest hero, Kenny the Cat, voiced by Biz Markie.  Following the live telecast at 9:30 p.m. is a brand-new Instant Mom guest starring international pop artist Cody Simpson.  In "A Kid's Choice," Gabby and James both submit their own videos to win tickets to a sold-out Cody Simpson concert, but when Aaron wins the tickets with his own video, the family fights over who will go with him.
 
www.Nick.com/kca14 and the Nick app are the official destinations for anything and everything Kids' Choice Awards, including a live webcast of the Orange Carpet before the show and a 360-degree look on-stage and backstage during the telecast.  Fans can also join in on the slime-fest by watching hilarious short form videos, taking fun quizzes, browsing through photo galleries, engaging with weekly polls, and getting the latest KCA news on this year's show and nominees.